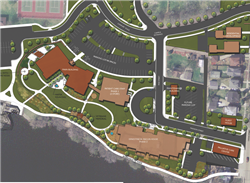 MISHAWAKA, Ind. (PRWEB) June 05, 2018
Center for Hospice Care (CHC) is in the midst of a five-year comprehensive campaign called "Cornerstones for Living: The Crossroads Campaign." The centerpiece of the Crossroads Campaign is the construction of a new 12-bed inpatient care facility overlooking the St. Joseph River. Thanks to a generous lead gift from Ernestine Raclin, the noted community philanthropist and Chairman Emeritus of 1st Source Corporation, the inpatient care facility will be named the Ernestine M. Raclin House.
"Half of all deaths in America occur when people are receiving hospice care and that number is increasing each year. At CHC, 25% of the 35,000 patients we've cared for over 37 years were seen in just the last four years alone," said Mark Murray, President/CEO of Center for Hospice Care and the Hospice Foundation, the supporting foundation responsible for raising funds for the new facilities.
The Ernestine M. Raclin House, along with a new clinical staff building currently under construction, will be the focal point for providing hospice care throughout much of CHC's service area. "When you consider the first of the 76 million baby boomers began signing up for Medicare seven years ago, the need for hospice care will only escalate dramatically over the next 20 years. This 'Crossroads' campaign is all about CHC putting the infrastructure in place today to meet this need of our communities tomorrow," said Murray.
For more information or to RSVP for this special event, please visit foundationforhospice.org/groundbreaking.
About Center for Hospice Care and the Hospice Foundation
Established in 1978, Center for Hospice Care is an independent, community-based, not-for-profit organization, improving the quality of living through hospice, home health, grief counseling, and community education. With offices in South Bend, Plymouth, Elkhart, La Porte and Mishawaka, CHC serves Elkhart, Fulton, Kosciusko, LaGrange, LaPorte, Marshall, Porter, St. Joseph and Starke counties in northern Indiana.
The Hospice Foundation is committed to supporting the work of CHC through community outreach and education, fundraising activities and other special events. The Foundation helps CHC keep its promise that no one eligible for hospice services will be turned away, regardless of their ability to pay.