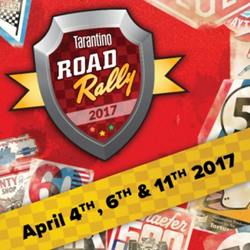 "This is prime opportunity for real estate brokers to get a glimpse of several high profile commercial properties back to back," says Peggy Rougeou, Director of Commercial Leasing
Houston, Texas (PRWEB) March 20, 2017
Tarantino Properties, Inc., a Texas based full-service real estate company specializing in income-producing real estate, is hosting a 2017 Road Rally for brokers on April 4th, 6th and 11th from 11 am – 2 pm at eleven featured commercial properties across Houston.
For this three-day event, brokers will "put the pedal to the metal" and race to be one of the first 50 to tour the featured properties and receive $50 in cash. Participants will refuel with a complimentary lunch at a select property each day, and earn a raffle ticket for every property they tour to enter into four drawings — the more tickets they earn, the more chances they have to win.
"This is prime opportunity for real estate brokers to get a glimpse of several high profile commercial properties back to back," says Peggy Rougeou, Director of Commercial Leasing. "We are looking forward to giving back to the brokers we work with in a fun and exciting way."
The eleven property "pit stops" include offices in Houston's North District, Uptown and West 1960. Office spaces range from 40,000 to 120,000 square feet boasting amenities such as covered parking, a landscaped atrium lobby, scenic and downtown views as well as private balconies. All of the featured properties are within easy access of Houston highways.
The Road Rally will come to an end on Tuesday April 11th at the Wrap party, 7660 Woodway Drive with Grand Prize drawings for a $1,000 Southwest Airlines gift card and a $500 Hotels.com gift card. Other Grand Prize drawings include $100 Top Golf Gift Card, $100 Landry's Gift Card and a Google Home.
About Tarantino Properties
Tarantino Properties, based in Houston, TX is a full-service real estate company specializing in income-producing real estate. They have a full complement of quality services including management, brokerage, leasing and construction services for commercial, retail and multi-family. The company currently manages over $2 Billion in assets throughout the United States.
For more information about the 2017 Tarantino Road Rally visit: http://www.tarantino.com/road-rally