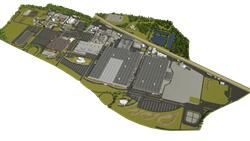 ANKENY, IOWA (PRWEB) March 21, 2017
QA Graphics recently partnered with the top aircraft engine supplier to provide a larger range of services that utilizes QA Graphics' many talents. This company came to QA Graphics with a common opportunity within the building automation industry. This lead to the following services provided by QA Graphics: 3D Graphics, Site Maps, Floor Plans, and BAS Symbol Library.
To download a copy of the project spotlight and learn more about the services provided visit: https://www.qagraphics.com/project-spotlight-aircraft-engine-supplier/
It is a common decision for companies to upgrade their building automation system (BAS), but this at times may also cause other difficulties along the process of what some are wanting to achieve. This is when you can look to QA Graphics to complement your efforts in creating graphics, to install controls, create a cohesive look, and easier use.
This was the case with QA Graphics recent partnership with the top aircraft engine supplier. To help them achieve their goals, QA Graphics specifically developed a BAS system graphics library so that the client may build their system graphics used in each building on campus. The detailed, custom graphics in the top aircraft engine supplier's symbol library make it possible to monitor complicated systems with ease, as well as insure them that regardless of what BAS system they may use in the future. The company will be able to maintain a common look and feel with any BAS graphic that they may need for a very long time.
A site map was also included, allowing users to navigate each building within the client's BAS system. This site map was of an area approximately one square mile in size and consisted of 150 total different structures with exterior perspective of the buildings on campus. Besides exterior renderings, QA Graphics produced floor plans that vary in scale of size. QA Graphics' team also has the knowledge to properly provide zoned views and include reference points. These details allow for the end user to have easier control.
To read more and see photos of examples how QA Graphics helped achieve a consistent look and feel that gives the end user easier control visit: https://www.qagraphics.com/project-spotlight-aircraft-engine-supplier/
About QA Graphics - QA Graphics is a leader in the building automation and green building industries. The company specializes in HVAC graphic development services, system graphics, floor plan graphics, and Energy Efficiency Education Dashboards™ (EEEDs). Since 2006, QA Graphics has served as an expert design resource for the building controls industry and is able to provide BAS graphics for any type of building automation. The company also provides marketing solutions such as interactive applications, 3D design and animation, UX design, videos, and more. Visit http://www.qagraphics.com to learn more.