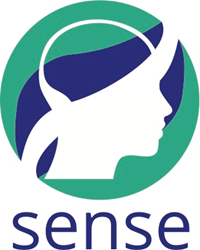 Cincinati, Ohio (PRWEB) March 21, 2017
Sense Diagnostics, LLC, a medical technology company with ties to the University of Cincinnati Academic Health Center is pleased to announce the closing of a $1.3 million financing round, led by the Queen City Angels (http://www.qca.com). Participating investors also included Dayton's Accelerant (http://www.accelerantdayton.com) and the Cleveland Clinic Global Cardiovascular Innovation Center (gcic.org), in addition to individual investors.
Sense Diagnostics' non-invasive medical device uses low-power radio waves to evaluate brain injuries, especially ones where active bleeding in the brain occurs, such as hemorrhagic stroke and severe traumatic brain injury (TBI).
Investor funds will be used to conduct the first human clinical study of the Sense brain injury monitoring system, and will fund operations, staffing growth, and intellectual property protection.
"We are enormously pleased to have this group of investors. Each is bringing more than just their checkbook. Since we've started collaborating, they've provided key clinical and technical contacts and instrumental management expertise," says Dan Kincaid, Sense Diagnostics CEO. Each year in the U.S., approximately 2.5 million people suffer TBIs and nearly 500,000 of these are moderate to severe injuries that require a hospital stay. An additional 100,000 people suffer from strokes caused by bleeding in the brain. These conditions are devastating for patients, with a great many either dying or suffering permanent disability.
Dr. Matthew Flaherty, Professor of Neurology at the University of Cincinnati and co-founder of Sense Diagnostics, described the unmet clinical need which the SENSE monitor is intended to fill. "Available neuroimgaging modalities like CT and MRI provide high-quality information regarding Central Nervous System injuries, but are only snapshots in time. Real-time, continuous data regarding the status of patients with hemorrhagic stroke or TBI would be very helpful to clinicians. A monitor which is portable and does not use ionizing radiation also offers important practical advantages."
The investors sound off on their excitement:
"QCA recognized that SENSE Sense Diagnostics addressed a compelling unmet need and had the potential to both improve clinical outcomes and decrease costs. Couple this with a top-notch, well- connected management/scientific team and you have a recipe for a robust return on investment," says lead QCA investor Dr. Roy Kulick.
"Accelerant is excited to be a participant investor with Sense Diagnostics. The pioneering technology being led by this team has life-changing implications in the monitoring of brain injuries, and is indicative of the leading edge medical technologies we're seeing within this corridor of Ohio," adds Roger A. Edwards, VP, Accelerant, An Initiative of the Dayton Development Coalition.
"GCIC welcomes Sense Diagnostics to our portfolio of Ohio-based companies developing innovative solutions to significant unmet clinical needs. We look forward to working with the company as it advances the Sense brain injury monitoring system through clinical evaluation and on to commercialization," says Mark Low, Managing Director of Cleveland Clinic's Global Cardiovascular Inovation Center.