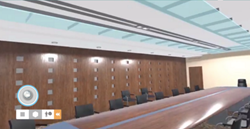 Los Angeles, California (PRWEB) March 21, 2017
EventForte today announced plans to roll out an upgrade to its event management app. Codenamed v2, the upgraded version brings substantial improvements to its 3D capabilities by building upon WebGL, the same technology used by modern CAD software to render professional designs.
The event management app was released in April 2016 on Apple devices and was subsequently released on Android, Windows 10, and desktop platforms. The app contains features such as 3D rendering, two dimensional diagramming, guest management, and day of check-in.
In particular, 3D rendering has become EventForte's most popular feature with many users lauding the move as a game changer, allowing event planners to "walk around" a space and get a sense of the layout of an event space.
EventForte has been and is still in the process of receiving customer feedback but has some sneak peaks for what v2 of the event management app will feature. "Our customers love to tell us how much they love the 3D but we always want to make it more customized," said Ankit Gupta, President of EventForte. "In v2, we will be adding in new features such as new furniture, and customizable wall and table cloth colors. For the rest, you'll have to wait and see."
Users who want to see something new in v2 can let EventForte know by emailing support(at)eventforte(dot)com or leaving customer feedback on http://support.eventforte.com/.
ABOUT EVENTFORTE, INC.
EventForte, Inc. is a hospitality technology firm that provides an all-in-one event management cloud platform. EventForte simplifies the event management process by empowering event planners and venues with easy-to-use event planning tools that feature cutting edge technologies such as artificial intelligence, accurate 3D rendering, and virtual reality. To find out more, visit https://www.eventforte.com.