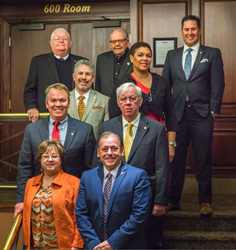 "Our directors and our home office team are committed to goals that will increase the visibility and expand the IARFC in ways beyond the scope of our projections...Chairman H. Stephen Bailey
Middletown, OH (PRWEB) March 22, 2017
Registered Financial Consultants (RFCs®) in attendance included: Chairman H. Stephen Bailey of HB Financial Resources, LTD in Charlotte, NC; Vice Chairman Nicholas A. Royer of Group 10 Financial, LLC in Maitland, FL; Treasurer Jon M. Rogers of Rogers Financial Group, LLC in Greenville, SC; President Peter J. D'Arruda from Capital Financial Advisory Group, LLC in Apex, NC; Secretary Michelle K. Blair from Farmingville, NY; Isabel Cooper of Edelman Financial in Ashburn, VA; James B. Moss of Money Concepts in Indianapolis, IN; Rick B. Stanzione of R&R Group in Washington Terrace, UT; and Mayo M. Woodward from Birmingham, AL. All the current Executive Officers Royer, Rogers, D'Arruda and Blair were re-elected to their current positions.
Through two days of agenda, the Board tackled issues facing the Association with innovative and experience-laden solutions. As its number one priority and recognizing membership as the obvious core, quality time was spent on enhancing these relationships. The Board wishes to be a partner by meeting consultants' needs and adding value to their membership – a very key focus.
Important to both the Association and consumers alike, the second goal is dedicated to completing the accreditation process and after approval marketing a credential that will elevate the status of its professionals. Finalizing the Master Registered Financial Consultant (MRFC) credential has the full backing of the Board along with development of a Study Guide for candidates to take the required exam. "Credentials are important to us and to those we do business with too," related the newly elected Board Member Rick Stanzione. "Ethics, integrity and service make us hold our standards to a fiduciary standard. We elect to raise our OWN bar."
The third goal component is a redefinition of the important bond with international chapters. The Board seeks to connect with the IARFC offshore community on a personal level this year and reinvigorate their dedication and commitment to developing Registered Financial Consultants in their own countries. Understanding their needs, on their level, with their financial professionals and then integrating the US-based programs will result in winning relationships.
"Our directors and our home office team are committed to goals that will increase the visibility and expand the IARFC in ways beyond the scope of our projections," relates IARFC Chairman H. Stephen Bailey. "I am extremely pleased at the progress made at our meeting. I gratefully salute everyone for their hard work, their experienced suggestions and their foresight."
For more information on the IARFC and the value of being part of a dedicated Association, visit the IARFC website.