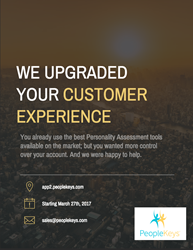 You Asked, We Answered. We already offer the best personality profiles, tools and resources. Now, we show you our commitment to providing you with the best technology for accessing them.
Boardman, OH (PRWEB) March 23, 2017
PeopleKeys, leading experts in Behavioral Analysis and Personality Assessment, announced today that they have made significant updates to their popular "App2" user platform. The changes were made as part of their efforts to put users first by giving them more options for controlling their user experience. PeopleKeys' App2 platform will include numerous new updates that were in response to common user requests. With this improved functionality, administrators will now have even more control over their PeopleKeys personality assessments, profiles, reports and resources.
Known for their highly customizable personality assessment and Behavioral Analysis products, PeopleKeys has extended this dedication to user-guided experiences by upgrading its user platform. This upgraded platform will incorporate even more Administrator-controlled functions. These functions will be thoroughly introduced and explained in instructional videos and downloadable documents, making them even easier to use.
PeopleKeys App2 Administrators and Account Holders will be able to:
1-Combine accounts
2-Move keycode from one account to another
3-Combine keycodes (same account)
4-Combine keycodes (same product)
5-Combine Users
6-Move single assessment
7-Move assessment from one user to another
8-Select different languages for assessments
These new features will allow the user to really take control of the organization of their account. It puts the account firmly in the hands of the Administrator without having to consult with PeopleKeys' customer service.
The updates will allow users to combine multiple accounts that were once under separate email addresses into one account. Administrators will also be able to group users together however they see fit, giving them advanced organizational capabilities. They will also be able to move assessments from one user to another or move assessments around and combine them as they see fit. If, for example, they bought numerous single assessments individually, they may have received unique keycodes for each one, complicating the process of organization and distribution of these assessments. They can now combine or group these assessments in any way that works for them. Additionally, Administrators don't need to purchase a specific language. The system is ready for them to choose a language as needed from a dropdown option within the platform. One person can view their assessment in English; and someone else can view the assessment in French if needed.
Administrators can dictate how they would like to organize their assessments, users, keycodes and more. With these new changes to their PeopleKeys App2 Platform, PeopleKeys illustrates their continued dedication to going beyond their customer's expectations.
Want to hear more? Have any questions? Contact PeopleKeys at sales(at)peoplekeys(dot)com or customerservice(at)peoplekeys(dot)com 330-599-5580 for more information
More about PeopleKeys:
For almost four decades, PeopleKeys has been the thought leader in cutting edge Behavioral Analysis and personality assessment resources. Throughout their expansion both domestically and internationally, PeopleKeys has sought to improve people's understanding of human behavior. Their knowledge of applied behavioral analysis has helped people to reduce stress, improve their relationships, increase workplace productivity, raise morale, and enhance interpersonal communication skills. With their DISC theory based reports, tools, resources, webinars and assessments, PeopleKeys seeks to help everyone unlock their people potential. They have products designed specifically for individuals, ministries, students, businesses, teams, coaches and more; and with over 33 languages available, they are uniquely suited to help everyone improve the human part of their lives.