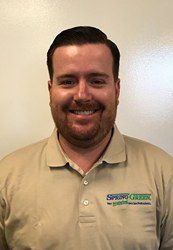 Plainfield, IL. (PRWEB) March 28, 2017
Spring-Green Lawn Care is proud to announce Dan Hillenbrand, former Scott's general manager, is taking over an existing Spring-Green location in the Edmond area of Oklahoma City, Oklahoma.
Hillenbrand has long possessed an entrepreneurial drive. "Since I was 10 years old, I've been thinking about what business I wanted to own and run," he explained. For five years, while in college, he operated his own lawn maintenance business. He sold it after graduation and began working with a franchise of Scott's Lawn Service in Colorado. A move back to Oklahoma City in 2007 led Hillenbrand to employment with two other lawn care-related companies before moving back to a corporate role at Scott's.
The purchase of Scott's by TruGreen in late 2016 led Hillenbrand to rethink his future. An interview with Spring-Green for a management role evolved into him inquiring about the local franchise. Hillenbrand's persistence paid off when the local owner was willing to sell the Edmond, Oklahoma, area.
"For the past 10 years, I've been managing a professional team that treated lawns and landscapes, so it was an easy decision and one my family would support. I can't wait to begin building my new team and servicing the local community under the Spring-Green Lawn Care brand. The big difference this time is that I own it!"
Hillenbrand's wife of 15 years, Candice, and his two daughters, ages 7 and 11, all recently visited the support center at Spring-Green to celebrate his graduation into ownership. Purchasing an existing business, and not having to start from zero, was ideal for the Hillenbrand family. "It was a good fit culturally, and Spring-Green's support structure puts me in a position for success while allowing me to focus on local relationships and services. I am very proud of what we do for the community and the environment. While nothing is simple in business or in life, I think it's going to work really well."
As he learned more about Spring-Green, Hillenbrand found the marketing support and purchasing power especially appealing. "I know the lawn fertilization and weed control business and I know customer service, but I only thought I knew marketing. After reviewing the industry leading marketing support provided by Spring-Green, I knew it would be the perfect strategic partnership and help accelerate my growth."
"We are excited about having Dan as part of the Spring-Green family. He is a trendsetter for other green industry managers. Spring-Green is very fortunate to have him join our organization," said Spring-Green President James Young. "With Dan's leadership and experience, we expect big things in the Oklahoma City area and look forward to supporting his aggressive growth plans."
About Spring-Green Lawn Care
Founded in 1977, Plainfield, Illinois-based Spring-Green Lawn Care has been delivering lawn and tree care services nationwide for 40 years. Its service is centered on the beautification of residential and commercial customers in middle-class and affluent neighborhoods and communities. Spring-Green is an attractive opportunity for entrepreneurs and existing green industry business owners who want to align themselves with a business model that has proven economic resilience, healthy profit margins, industry leading business and marketing intelligence, recurring revenue and retirement and succession planning. For more information, visit http://www.springgreenfranchise.com.
Contact: 54 LLC
Jack Burris
704-557-0304
jburris(at)engage54(dot)com