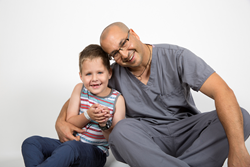 My goal is for the international patients and families to feel that this is the best hospital in the world to get their care
St. Petersburg, Fla. (PRWEB) March 21, 2017
Johns Hopkins All Children's Hospital expands its Institute for Brain Protection Sciences with the addition of the hospital's first international and pediatric neurosurgery fellow. The hospital appointed Israeli neurosurgeon, Nir Shimony, M.D., who will use the fellowship to develop his skills and expertise in pediatric neurosurgery and brain disorders.
Dr. Shimony completed a six year residency with emphasis on pediatric and oncological neurosurgery at the Tel Aviv Medical Center, which is the second largest and one of the most progressive full-service health care treatment and research institutions in Israel. For George Jallo, M.D., director of the Johns Hopkins All Children's Institute for Brain Protection Sciences, the appointment boosts the hospital's international profile for training the next generation of pediatric neurosurgeons and aligns with the hospital's mission to expand medical education.
"My goal is for the international patients and families to feel that this is the best hospital in the world to get their care," said Dr. Jallo. "There are very few pediatric neurosurgery fellowships in the rest of the world. In Europe there are few positions, and in the Middle East there are no such fellowships. Our goal for Dr. Shimony, who wants to practice pediatric neurosurgery in Israel, is to fine-tune his skill set to take care of children."
With only five facilities able to perform complex pediatric neurosurgeries in Israel, Dr. Shimony says there is a critical need for pediatric neurosurgeons in the Middle East. "I am passionate about treating patients suffering from central nervous system disorders, especially children and infants suffering from oncological pathologies and epilepsy," Dr. Shimony explained. "I am intrigued by the human brain, its marvelous structure and function. I believe we can do much more for those who suffer from diseases affecting their nervous system and I am willing to dedicate my life in search for this goal."
Dr. Shimony's appointment is known as the Tom Dorety Fellowship. Tampa Bay Area Credit Unions for Kids, Inc. bestowed the gift to the Johns Hopkins All Children's Foundation in honor of Dorety's recent retirement from the Suncoast Credit Union.
Read more about the pediatric neurosurgery fellowship.
About Johns Hopkins All Children's Hospital
Johns Hopkins All Children's Hospital in St. Petersburg is a leader in children's health care, combining a legacy of compassionate care focused solely on children since 1926 with the innovation and experience of one of the world's leading health care systems. The 259-bed teaching hospital, ranked as a U.S. News & World Report Best Children's Hospital, stands at the forefront of discovery, leading innovative research to cure and prevent childhood diseases while training the next generation of pediatric experts. With a network of Johns Hopkins All Children's Outpatient Care centers and collaborative care provided by All Children's Specialty Physicians at regional hospitals, Johns Hopkins All Children's brings care closer to home. Johns Hopkins All Children's Hospital consistently keeps the patient and family at the center of care while continuing to expand its mission in treatment, research, education and advocacy. For more information, visit HopkinsAllChildrens.org.