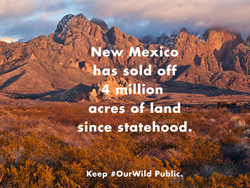 Let's be clear: the strings are being pulled by a narrow group of special interests and don't reflect the values that people in the West and across this country place on our shared heritage, our public lands. -- Michael Casaus, New Mexico state director.
Albuquerque, NM (PRWEB) March 20, 2017
The state of New Mexico has sold 4 million acres of state trust lands to private interests and extractive industries, some of which endanger the health, environment, and economy of local communities, according to a report released this week by The Wilderness Society. These sell-offs account for nearly thirty-percent of the state's original land holdings—a dangerous precedent behind recent efforts in Congress and the New Mexico state legislature to take over national public lands.
The report, "New Mexico lands and outdoor opportunities lost to the highest bidder," is a forewarning that public lands like national forests, monuments and parks could be sold, like state trust lands, to a narrow group of private interests for profit under state control. Once sold, public access is often blocked for outdoor activities like camping, hiking, hunting and fishing.
"A small group of elected officials continue to advocate for state seizure of our shared public lands, but what our research shows is that states like New Mexico have a history of locking the public out and putting short term profits above the long term economic engines our lands have proven they can be," said Michael Casaus, New Mexico State Director for The Wilderness Society. "Communities from Taos to Las Cruces have seen the benefit of protected public lands for their local economies. If the State of New Mexico were left to manage these same lands it is highly likely that Our Wild would be sold to the highest bidder."
In New Mexico, 12 pieces of legislation have been introduced since 2013 with the ultimate goal of confiscating national forests, refuges, parks and other shared lands that rightly belong to all Americans. While those who are trying to seize our public lands claim they have no intention of selling off these treasured assets, if history is any indicator, state-managed lands are often sold to ranchers, mining companies and oil and gas interests.
"Let's be clear: the strings are being pulled by a narrow group of special interests and don't reflect the values that people in the West and across this country place on our shared heritage, our public lands," said Casaus. "Some politicians parade the argument that the state could manage public lands better than the federal government, but the report proves that this is illogical and unworkable, in addition to being unconstitutional."
On the contrary, New Mexican taxpayers face unreasonable economic burdens—the potential for higher taxes, budget cuts in state departments like education and restricted recreational freedoms if public lands are managed by the state. The report details the robust economic engine driven by the outdoor recreation industry in New Mexico, including:

$6.1 billion is spent on outdoor recreation in New Mexico.
This spending supports 68,400 New Mexico jobs, generates $1.7 billion in wages, and produces $458 million in state and local tax revenue.
Ninety percent of the state's sportsmen hunt or fish on public lands, providing $579 million annually to the state's economy.
The report provides several examples of state land sales that benefited the pockets of private interests including extractive corporations like Molycorp Inc., Chino Copper Company, and Yates Petroleum Company, among others . These companies often leave behind environmental footprints.
Molycorp Inc. purchased nearly 4,000 acres of state trust lands near Questa and the recently established Rio Grande del Norte National Monument. Some of this land was then used as a mine tailing facility and was declared a Superfund site by the EPA in 2011. The land is currently owned and operated by Chevron, and is in the process of a $143 million cleanup.
Chino Copper Company initially purchased 7,181 acres of state trust land near Hurley, New Mexico in the early part of the 20th century. Some of these purchased state trust lands became a tailing site—a dumping ground for the mine's waste. More recent owners, Phelps Dodge and Freeport-McMoRan Copper & Gold Inc., have had issues in the past protecting groundwater in the area.
Yates Petroleum Inc. made a considerable purchase of 14,710 acres of state land near Artesia for oil exploration and drilling.
"Congressmen Steve Pearce, Land Commissioner Aubrey Dunn, extreme state legislators and others continue to search for ways to undermine federal land management which could mean 'no trespassing' and 'for sale' signs in some of New Mexico's favorite wild places," said Casaus. "Once these lands leave state or public hands we lose them forever. While some places are appropriate for development, we need to ensure short-sighted state leaders keep their hands off our public lands."
Additional resources
Link to report
Link to blog