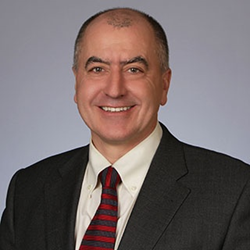 Boston, Mass. (PRWEB) March 21, 2017
Cambridge Semantics, the leading provider of graph-based Smart Data management and exploratory analytics solutions, today announced the addition of Carl Reed, an expert on financial big data discovery and analytics, as an industry advisor.
Reed brings more than 20 years of FinTech experience to the Cambridge Semantics team working as a developer, engineer, strategist and enterprise architect. In recent years, Reed focused on data, ontology and graph semantics, making him an ideal advisor for Cambridge Semantics.
Reed is formerly a technology managing director of Credit Suisse, serving as the head of data architecture and semantic technology. Prior to joining Credit Suisse, Reed worked at Goldman Sachs for 21 years where he served in a number of senior divisional CTO and technology strategy roles, implementing multiple, innovative technology solutions across the firm. These included large ontology, big data and semantic graph projects that served as foundations for next-generation technology provisioning, operations, billing and surveillance analytics architecture capabilities across the firm.
"Cambridge Semantics does something that is both unique and extremely powerful – it provides customers with a fully integrated semantic development pipeline," said Reed. "I believe such a capability is transformational for the financial sector and any other industry looking to provide meaningful, consistent and credible data analytics."
Reed is also working with the EDM Council as an adviser for defining a common semantic architecture to accelerate the application of FIBO and its unique enterprise value proposition.
Carl Reed, the EDM Council and Cambridge Semantics recently hosted a webinar entitled "Applying Data Engineering and Semantic Standards to Tame the Perfect Storm in Data Management."
Before entering the financial services space, Reed was a physicist in research and development sponsored by Rolls Royce, an engineer in oil and gas exploration working offshore in the North Sea, and a management and technology consultant with PricewaterhouseCoopers. His combined expertise in various fields has contributed to his development as a leader in the data analytics space.
"We've experienced rapid growth over the past few years in the financial services sector and will leverage Carl's in-depth, real-world insights to further expand the adoption of our Smart Data solutions," said Marty Loughlin, VP Financial Services at Cambridge Semantics.
Cambridge Semantics leverages its award-winning Anzo Smart Data Lake® (ASDL) platform to revolutionize smart data discovery, analytics and data management across the enterprise and on the web at big data scale. The ASDL solution includes the in-memory graph database, Anzo Graph Query Engine, which recently shattered a previous record of loading and querying a 'trillion triples' by 100x.
About Cambridge Semantics
Cambridge Semantics (CSI), the Smart Data Company, is an enterprise smart data management and exploratory analytics company. It enables customers and partners to rapidly build and deploy Smart Data Lake solutions based on its award-winning Anzo Smart Data Platform™ (Anzo SDP).
IT departments and business users gain better understanding and data value through the semantic linking, analysis and management of diverse data whether internal or external, structured or unstructured. The Anzo Smart Data Lake solutions are delivered with increased speed, at big data scale and at a fraction of the implementation costs of using traditional approaches.
The company is based in Boston, Massachusetts.
For more information visit http://www.cambridgesemantics.com or follow us on Facebook, LinkedIn and Twitter: @CamSemantics.