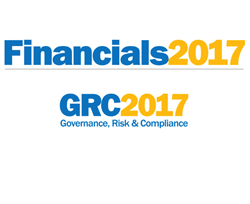 A retention policy is the first step in protecting an organization's data against financial, civil, and criminal penalties.
Malvern, PA, Toronto, Canada (PRWEB) March 20, 2017
Dolphin Enterprise Solutions Corporation (Dolphin), an SAP® partner and provider of solutions in support of SAP software, today announced that it will participate with customer Great-West Financial at the annual Financials 2017 conference, produced by SAPinsider. The event will take place March 21-24 at the Mirage Las Vegas. Show attendees can visit Dolphin at booth 215 and hear from Dolphin's SAP experts during the following sessions:
Case Study: How Great-West Financial optimizes its accounts payable processes with limited purchasing integration: Susan Topping of Great-West Financial will discuss how the company manages more complex accounting entries from a spreadsheet and streamlines the approval, reminder, and escalation processes, delivering greater benefits to the business. This session will take place Wednesday, March 22, at 10:15 AM – 11:15 AM
Jumpstart process optimization with an ROI analysis and change management plan: Brian Shannon of Dolphin will discuss how to calculate the potential ROI of accounts payable process optimization projects using standard SAP software reports and detailed questionnaires. Get actionable advice based off real world stories that demonstrate different process optimization options and the resulting benefits. This session will take place Thursday, March 23, at 3:15 PM - 4:15 PM
Ask the Experts Forum – Financial Process Management: Brian Shannon, Dolphin Principal Business Process Management Strategist, will participate in this forum during the show. Tuesday, March 21 from 5:15 to 6:00 PM.
Are Your Retention Policies Up to Date? James Baird of Dolphin will discuss how to keep retention policies up to date and ensure they are applied correctly to online data in SAP systems. He will discuss best practices for reviewing regulations, how to collaborate between diverse lines of business, and how to implement retention policy changes across the enterprise. This session will take place Friday, March 24, at 9:45 AM - 10:45 AM
Ask the Experts Forum – Risk Management: James Baird, Dolphin Sr. Data Management Consultant, will participate in this forum during the show. Wednesday, March 22 from 6:00 to 7:00 PM.
About Dolphin
Dolphin leads the way in business performance improvement for companies running SAP solutions and manages both data and processes. From data and information lifecycle management to end-to-end solutions for procure-to-pay and order-to-cash processes based on SAP software, Dolphin helps deliver a competitive advantage that drives cost savings, optimizes cash flows and fosters a lower total cost of ownership. Leveraging SAP technology, Dolphin's data lifecycle and business process management solutions and add-on applications with SAP-certified integration have built-in flexibility, and are designed to be tailored to each customer's specific business processes and IT environments. To lean more visit dolphin-corp.com
The company was founded in 1995 and has offices in San Jose, CA, Philadelphia, PA and Toronto, Canada. Dolphin's smart, adaptable and proven solutions are implemented by hundreds of companies across North America and around the world. To learn more, email us at contact(at)dolphin-corp(dot)com or visit http://www.dolphin-corp.com.
# # #
SAP, SAP HANA, SAP Fiori and other SAP products and services mentioned herein as well as their respective logos are trademarks or registered trademarks of SAP SE (or an SAP affiliate company) in Germany and other countries. See sap.com/corporate-en/legal/copyright/index.epx for additional trademark information and notices.
All other product and service names mentioned are the trademarks of their respective companies.