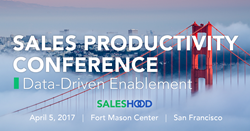 "Together, we're elevating the sales enablement profession by bringing practitioners together to network and share innovative ideas to boost sales productivity," says Elay Cohen, CEO, SalesHood
San Francisco, CA (PRWEB) March 21, 2017
SalesHood, the leading sales productivity platform, is hosting its 3rd Annual Sales Productivity Conference in San Francisco on April 5th, 2017. The Sales Productivity Conference is a one-day event for sales and marketing leaders to share sales enablement best practices. The conference offers compelling keynotes, action-oriented content and collaborative workshops to share ideas and network.
"Together, we're elevating the sales enablement profession by bringing practitioners together to network and share innovative ideas to boost sales productivity," says Elay Cohen, CEO, SalesHood and former Senior Vice President, Sales Productivity from Salesforce.
The conference features keynotes from some of the most successful and forward-thinking sales productivity leaders from Apttus, DocuSign, FinancialForce, SalesHood, Xactly, and the highly acclaimed sales trainer Barry Rhein. Topics include: Sales performance insights and benchmarks, data-driven sales enablement, sales productivity multipliers, sales transformations and go-to-market alignment.
Speakers include:
Christopher Cabrera, CEO, Xactly
Barry Rhein, Founder, Selling Through Curiosity
Quyen Chang, Sr. Director, Global Field Enablement, FinancialForce
Adam Sold, VP WW Field Operations, FinancialForce
Kamal Ahluwalia, Chief Revenue Officer, Apttus
Aaron Farley, Global Head of Enablement, Apttus
John Hsieh, Sr. Director, Global Enablement, DocuSign
Jeff Leslie, Director, Field Communications and Sales Enablement, Docusign
Elay Cohen, CEO, SalesHood
About SalesHood
SalesHood helps companies boost sales productivity by getting more salespeople performing like to performers. SalesHood simplifies and automates sales productivity with next generation training, onboarding, collaboration, and content sharing. SalesHood has more than eighty customers, thousands of teams and over twenty thousand sales and customer success people from Alteryx, Apttus, Docusign, Domo, Host Analytics, FinancialForce, InsideSales, Intacct, RingCentral, ServiceMax, Telogis, Zuora and many more. For more information about SalesHood and a free trial, visit us at https://www.saleshood.com.