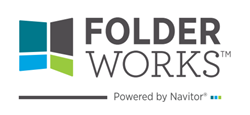 "While we now have a new name, our team continues our commitment to bringing our customers the best folder experience in the industry," says Bill Bohning, General Manager.
North Mankato, Minn. (PRWEB) March 23, 2017
Navitor has announced that their Presentation Folders line will now be available under a new brand name: FolderWorks™ Powered by Navitor®. FolderWorks™ will continue to operate as a part of Navitor, giving customers access not only to a wide variety of presentation folder products but also to a variety of other print products. However, their new branding and new name will be on display throughout 2017.
According to Bill Bohning, General Manager of FolderWorks™, "The FolderWorks™ name reflects our ongoing commitment to focusing our business on delivering 'the works' when it comes to the best folder experience. We will continue to provide our customers with the products and experience they have come to love!"
FolderWorks™ has also recently made investments to further enhance their capabilities. This includes the addition of another 6-color UV press that includes in-line coating capabilities and new finishing equipment that allows for faster and more accurate die cutting, folding, and gluing.
More information about Navitor and the company's selection of specialty printed products can be found at Navitor.com.
About Navitor
FolderWorks™ is part of Navitor Inc., one of America's largest commercial wholesale printers. Navitor delivers innovative programs, services and technologies exclusively to print resellers. Headquartered in Minnesota and with manufacturing facilities nationwide, Navitor provides print resellers and distributors the industry's widest catalog of personalized print and custom business identity products. Navitor is part of the Taylor Corporation family of companies. For more information, visit our website at Navitor.com.