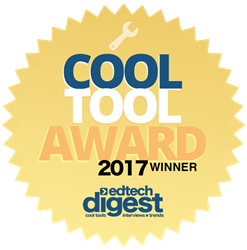 Mileposts is a powerful personalized learning platform for today's educators. We were so pleased to be in such an elite group of finalists for this award.
Boise, ID (PRWEB) March 23, 2017
Silverback Learning Solutions (http://www.silverbacklearning.com), a pioneering K-12 education technology company and developer of the Mileposts™ personalized learning platform installed in schools K-12 nationwide, today announced that it has won the Cool Tool Award for Best Personalized Learning Solution from EdTech Digest. The EdTech Digest Awards Program annually recognizes outstanding education technology solutions reshaping the education culture and contributing to a new and better future for students. The program recognizes the best products and brightest minds in 50 award categories, which are evaluated by K-12 education industry influencers and veterans.
"We are honored to be recognized by the industry experts at EdTech Digest who understand that successful integration of data-driven technology into the classroom is vital to improving student achievement and paving the way for sound educational instruction in the 21st century. Mileposts is a powerful personalized learning platform for today's educators. We provide teachers with the ability to organize student data into relevant, actionable information that can immediately be paired with personalized learning resources to drive sustainable student achievement, " said Dr. Jim Lewis, CEO of Silverback Learning Solutions. "We were so pleased to be in such an elite group of finalists for this award."
A distinguished panel of industry influencers and veterans conducted this year's evaluation proceedings. "There is a lot of talent and quality out there, and we're excited to recognize these cool tools, leaders and trendsetters in the education technology space," said Victor Rivero, who oversees the program as Editor in Chief of EdTech Digest. "With this year's program we are shining a spotlight on the best and brightest tools, leaders, and trendsetters pushing forward today's education revolution."
About Silverback Learning Solutions
Silverback Learning Solutions is founded by a former superintendent and continues to be enriched by educators. We deliver solutions focused on the individual learner, the classroom, and the district with personalized learning and growth at the core. Our award winning company delivers a complete suite of products - Mileposts™, Teacher Vitae and EdifyAssess powered by Silverback. Students, teachers, administrators, and superintendents use Silverback solutions to drive intentional instruction for greater achievement and they are found in K - 12 schools and districts throughout the U.S.
About EdTech Digest
The mission of EdTech Digest is to tell the story of 21st-century education transformation. By sharing cool tools, fascinating interviews, relevant trends and voices from the field, we hope to inspire learners and leaders everywhere, to get workable technology solutions for education widely known about and well thought of, to reshape the education culture and to create a new and better future for students. Featuring movers and shakers in and around education dedicated to making a difference for our future generations, read it online at edtechdigest.com.