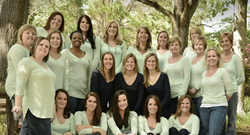 Rock Hill, SC (PRWEB) March 22, 2017
Drs. Jennifer Houck, Lauren Smith, Heather Johnson and the India Hook Dental Care team, are expanding their patient base to accept new patients in need of skilled pediatric dentistry in Rock Hill, SC, without a referral. With over 40 years of experience, India Hook Dental Care offers pediatric patients routine treatments, including cavities, sealants and fluoride applications, in a comfortable and fun environment.
Introducing children to a qualified dentist at an early age can make a large difference in their overall oral health for the rest of their lives. The American Academy of Pediatric Dentistry recommends that patients receive dental care by the time they turn one year old. Children who attend the dentist at an early age are more likely to take good care of their teeth and gums by putting into practice the healthy habits their parents and dentist taught them at a young age, avoiding costly cavities that can damage their smiles. Additionally, parents can also learn the steps and routines they need to use at home to ensure that their child's teeth remain as healthy as possible.
A family dental practice that offers a wide variety of treatments is frequently preferred for pediatric patients. By offering experienced pediatric dentistry in Rock Hill, SC, as well as other treatments, patients do not have to travel to a number of different practices to receive the care they need. Young patients can see the example their family members set as they undergo their own dental care, modeling what the younger patients should do while showing there is nothing to fear from routine dental care. Additionally, children can develop a trusting relationship with their dentist, understanding they are in a safe environment.
Pediatric dental care can not only be a fun experience, but one that can lead to proper, life-long oral health habits. Those interested in scheduling a consultation for pediatric dentistry in Rock Hill, SC at India Hook Dental Care can call 803-324-7640 for a personalized visit.
About the Practice
India Hook Dental Care is a general and cosmetic dental office offering personalized dental care to patients in Rock Hill, SC. The entire team takes pride in putting a smile on each one of their patient's faces and understands that staying up-to-date on the latest advancements in dentistry will help them provide the highest level of care. To learn more about the doctors and team at India Hook Dental Care, or the services they offer, please visit their website at http://www.indiahookdental.com or call 803-324-7640 to schedule an appointment.