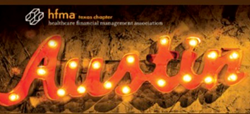 AppRev is proud to support HFMA Texas!
Temple, Texas (PRWEB) March 23, 2017
The annual event will take place on Monday, March 27, 2017, at Maggie Mae's legendary bar on Austin's renowned 6th Street. Conference attendees will enjoy an evening of socializing and networking to the sounds of the Todd O'Neill Band.
The HFMA Texas State Conference is held each spring in Austin and provides members and attendees with a multitude of educational opportunities. This year's conference takes place March 26-28, 2017. Conference topics include Texas Healthcare policy, physician alignment and reimbursement, patient friendly revenue cycle techniques and technical skills.
"We are so pleased to be able to support the HFMA Texas State Conference this year," said Seth Avery, AppRev President and CEO. "Educational and networking opportunities like this are essential to healthcare professionals in this ever-changing environment."
AppRev is a privately held Healthcare Business Intelligence company based in Temple, Texas, providing services and technology to more than 80 hospitals throughout the United States and Bermuda. AppRev delivers results through services and technology that allow hospitals and clinics to improve revenue cycle performance. The company's solutions are provided via web delivered Service Supported Software™ and include Charge Accuracy, Charge Review, Denials Intelligence, Pricing Analytics, CDM and DSH services. All AppRev solutions employ ongoing measurement of revenue cycle improvements and can be tailored to meet customer-specific requirements.