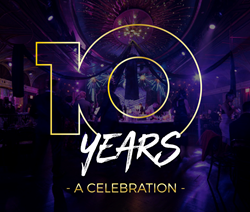 "It's going to be a big celebration… We will be taking a peek into the future and all the great things we have in the pipeline to better serve our audience and advertisers,"
Los Angeles, CA (PRWEB) March 27, 2017
LATV Networks, the pioneer Latino Alternative television network and home of LATV and American Latino Syndication, has reached an incredible milestone in their history! LATV is officially ten years old, and the network announced today that it will be hosting a combined celebratory event in commemoration of their 10th Anniversary and network Upfront Presentation. The much anticipated affair will be held on Wednesday, May 10th at 6pm at New York City's iconic Diamond Horseshoe venue, a legendary and distinctive space located inside the renowned Paramount Hotel.
The Ten Year Anniversary Celebration is a great landmark for the network, which remains the last minority-owned and operated TV network in the Hispanic marketplace. "We are thrilled to be hosting our friends and partners who have not only been supportive throughout the years but fundamental to the growth of the network since its inception," said Andres Rincon, LATV's Vice President of Network Sales. "It really is an honor to be part of a media platform that has always had a strong and continued vision to serve the Ambicultural Latino community in the United States. In a way, the evening is more than simply a celebration of our own achievements as a network but also a symbol of gratitude and validation to our audience."
And no Upfront would be complete without a showcase of the network's upcoming original content, and the extraordinary marketing potential of its ever-vibrant, ever-expanding bi-cultural experience. "It's going to be a big celebration… We chose a theme and a space that is reflective of that, and we guarantee a memorable evening! We will also be taking a peek into the future and all the great things we have in the pipeline to better serve our audience and advertisers," added, Luca Bentivoglio, COO and Head of programming.
About us:
LATV is a direct link to the growing voice of the Latino experience. As the original alternative, and only remaining Latino-owned TV network in the Hispanic television space, LATV has established itself as a pioneering network, a trend-setting brand, and an innovative content hub.