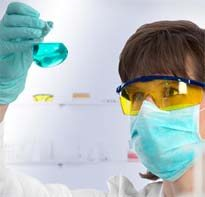 SMRP levels...were significantly higher in pleural effusions from malignant pleural mesothelioma.
Raleigh, NC (PRWEB) March 23, 2017
Scientists in Italy say soluble mesothelin related peptide (SMRP) in lung fluid is a more reliable indicator of malignant pleural mesothelioma than the protein fibulin-3 (FBLN3). Surviving Mesothelioma has the details in a new article. Click here to read it now.
Doctors with the public health service in La Spezia tested the diagnostic accuracy of the two biomarkers in 120 patients with lung fluid build-up called pleural effusions. Thirty-three of those patients had been diagnosed with pleural mesothelioma.
"Levels of FBLN3 were similar in pleural effusions from malignant pleural mesothelioma and pleural effusions from other pathologies," writes study author Enrico Battolla. "[This is] in contrast to SMRP levels, which were significantly higher in pleural effusions from malignant pleural mesothelioma."
According to the study in Anticancer Research, the team believes the FBLN3 may be more valuable as a prognostic indicator for mesothelioma patients trying to decide between treatment options.
"Although biomarkers are only one part of the diagnostic picture in mesothelioma, it is valuable to know which ones are most accurate since inaccuracy can waste valuable treatment time," says Alex Strauss, Managing Editor for Surviving Mesothelioma.
For a more detailed understanding the two biomarkers studied and how they relate to pleural mesothelioma, see Diagnosing Pleural Mesothelioma with Lung Fluid: The Battle of the Biomarkers, now available on the Surviving Mesothelioma website.
Battolla, E, et al, "Comparison of the Diagnostic Performance of Fibulin-3 and Mesothelin in Patients with Pleural Effusions from Malignant Mesothelioma", March 2017, Anticancer Research, pp. 1387-131. http://ar.iiarjournals.org/content/37/3/1387.abstract
For more than a decade, Surviving Mesothelioma has brought readers the most important and ground-breaking news on the causes, diagnosis and treatment of mesothelioma. All Surviving Mesothelioma news is gathered and reported directly from the peer-reviewed medical literature. Written for patients and their loved ones, Surviving Mesothelioma news helps families make more informed decisions.