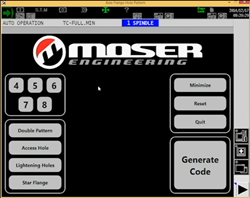 Charlotte, NC (PRWEB) March 23, 2017
A new video by Okuma America Corporation, a world leader in CNC machine tool manufacturing, shows how an Okuma user created an app to simplify processes for their operators. The customer, Moser Engineering, had operators without a lot of CNC machining experience, and they needed to find a way to make the user process on their machine tools as easy as possible.
The video shows how Okuma distributor Gosiger went into the control and created a GUI interface so the Moser operators don't even see the OSP controls, or have to call up any programs at all. The app also provides safeguards so the operators can't crash the machine tool.
The purpose of the video is to demonstrate how an open architecture control enables users to customize solutions that fit their unique needs and applications. This is the first in a series of videos that show how a CNC control can be used to innovate and drive business growth in machine shops.
To view this video and see how an open control works for optimal machining performance please visit http://bit.ly/2nwzu56.
Okuma America Corporation is the U.S.-based sales and service affiliate of Okuma Corporation, a world leader in CNC (computer numeric control) machine tools, founded in 1898 in Nagoya, Japan. The company is the industry's only single-source provider, with the CNC machine, drive, motors, encoders, and spindle all manufactured by Okuma. The company also designs their own CNC controls to integrate seamlessly with each machine tool's functionality. In 2014 Okuma launched the Okuma App Store, the industry's only centralized online marketplace for machine tool apps and related content. Along with its extensive distribution network (largest in the Americas), and Partners in THINC, Okuma is committed to helping users gain competitive advantage through the open possibilities of machine tools, today and into the future. For more information, visit http://www.okuma.com/americas or follow us on https://www.facebook.com/OkumaAmericaCorporation or Twitter @OkumaAmerica.
###