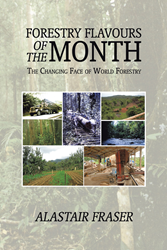 BLAIRGOWRIE, Scotland (PRWEB) March 27, 2017
Based on the author's life as a forester in dozens of countries, Alastair Fraser's book "Forestry Flavours of the Month" shows the expansive field of forestry and how it needs to focus on managing change and achieving sustainability.
Fraser explains how forestry changes with political cycles and how foresters can promote healthy forests. Addressed issues in the book include combating floods and climate change, illegal logging, and promoting sustainable forestry management.
"I was disappointed in how little the public in general know about forestry and how under-appreciated forests are, with the result that forests are being destroyed all over the world with little or no regard for the consequences," said Fraser. "I therefore wanted to use my own varied experiences to try to raise general awareness about forestry and how forests benefit mankind in so many ways."
The book also addresses the ignorance, greed, and corruption that have resulted in the loss of forests and major environmental consequences. Specific factors include economic interests and lack of proper government oversight.
"Forestry Flavours of the Month" serves to better educate the public about the importance of the environment and encourages young people to pursue careers in forestry to continue the work carried out by Fraser and others.
"Forestry Flavours of the Month"
By Alastair Fraser
ISBN: 978-1-52462-890-1 (hardcover); 978-1-52462-892-5 (softcover);
978-1-52462-891-8 (eBook)
Available on Amazon, Barnes & Noble, and AuthorHouse
About the author
Alastair Fraser was a professional forester in the United Kingdom and dozens of other countries for 55 years before retiring. He earned a Bachelor of Science degree in forestry from Aberdeen University and a doctorate from Edinburgh University, where he studied the interaction between climate and forests. He is the co-founder of LTS International, a forestry consulting company, and is also the author of the textbook "Making Forest Policy Work." To learn more, please visit http://www.forestryflavoursofthemonth.com.
###
Review Copies & Interview Requests:
LAVIDGE – Phoenix
Bryan Beach
480-998-2600 x 510
bbeach(at)lavidge(dot)com
General Inquiries:
LAVIDGE – Phoenix
Chris Pena
480-998-2600 x 519
cpena(at)lavidge(dot)com