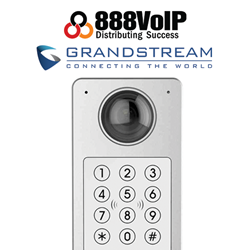 888VoIP, a leading distributor of VoIP solutions, has announced that it is the only current distributor of the new Grandstream GDS3710 IP Video Door System.
Elma, NY (PRWEB) March 22, 2017
888VoIP, a distributor of leading VoIP hardware and software solutions, announced the addition of Grandstream's new GDS3710 IP Video Door System to its product portfolio. As the only current distributor of the GDS3710, 888VoIP is offering service providers and value-added resellers an ideal product for tracking, managing and recording access to any building.
The GDS3710 serves as an IP security camera and IP intercom with a full 180-degree video view, offering complete wall-to-wall coverage. The door system has a built-in RFID chip reader for secure keyless entry and a built-in microphone and speaker for intercom functionality. Its sleek, modern metal casing makes this door system eye-catching, weatherproof and vandal resistant. The value of this new product does not stop there, as the GDS3710 can be integrated with other Grandstream products to create a full, comprehensive solution.
"We are very excited to have been selected as a distributor for Grandstream's new HD Video Door System," said David Vance, Chief Operating Officer at 888VoIP, "Grandstream has taken a very innovative approach to the development and technology of this product."
888VoIP has also announced it is now offering new Grandstream networking products: the GWN7600 & 7610 Access Points and GWN7000 Enterprise Multi-WAN Gigabit VPN Router. Grandstream's high performing WiFi Access Points will allow for widespread coverage with user-friendly provisioning and management tools. The GWN7000 Router is a high-performance solution, ideal for small-to-medium sized businesses.
"The timing couldn't be better for Grandstream to release new networking products for the channel. There has been a need for quality cost-effective routers & access points for some time," said Vance, "The release of Grandstream's new products coincides with 888VoIP's facilities expansion, which includes more provisioning & integration services, as well as additional warehouse space for expanded stock levels & custom logistics solutions."
To learn more about these new Grandstream solutions, visit 888VoIP.com or contact an 888VoIP sales representative today at 888-864-7786.