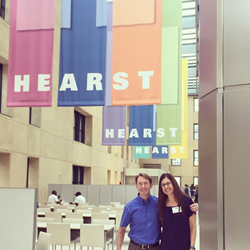 Kennett Square, PA (PRWEB) March 27, 2017
Every good PR professional knows that building solid relationships with the media is key to having a strong list of contacts to can call upon when needed. PR pros can meet new contacts via pitching, conferences and networking.
One of the best ways to reach new contacts and strengthen old connections is through media tours — a set of pre-arranged face-to-face meetings with reporters, editors, bloggers, producers and other influencers. Either invite the media to an event, lunch or coffee, or visit them deskside.
This Fall, GMG traveled to The Big Apple for a media tour with Costa Farms. Find out how we made this tour a success.
1. In-person meetings
In person meetings are important to building brand loyalty. It's a brief opportunity to let the media know who the client is and how they fit in to their publication/show/story. It's essential to be not only familiar with the outlet but how the client can offer something unique. Come prepared with a specific message or give influencers a sneak peek at a new product — everyone loves a swag bag.
The Planning
Media tours take lots of planning, commitment and coordination. Garden Media visited six outlets in just one day while on tour with Costa Farms. Determine the ideal audience and identify the outlets that can help reach those people. Decide where to go and then start reaching out to contacts and figuring out the logistics of making several visits to multiple outlets in a short time period. Double-check meeting locations and make sure there is enough time to travel from place to place.
The Tour
Once the planning is done, it's time to start the whirlwind adventure! Make sure to brush up on facts about the influencer and have relevant pitches for each outlet. Get to know the influencer and take notes, making sure to leave the meeting knowing how to help them in the future.
Once done, follow-up and stay in contact. Follow-up with relevant information, media kits and a brief thank-you for their time. Now you just need to measure results!
Garden Media Group ignites buzz for clients, offers innovative public relations campaigns and secures top media placements and partnerships. The boutique PR and marketing firm is known as the best in the home, garden, horticulture, outdoor living, and lawn and landscape industries. Visit gardenmediagroup.com for more information.