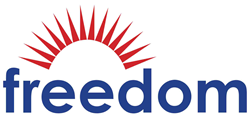 This drop could be good news, but we suspect ... some borrowers aren't increasing their revolving debt because they have maxed out their credit cards.
San Mateo, Calif. (PRWEB) March 23, 2017
While revolving debt continues to decrease, non-revolving (installment) debt is growing faster than ever – an indicator that more people are turning to personal loans instead of credit cards to handle expenses, according to the Freedom Financial Network Quarterly Comment on consumer debt and credit issues.
The number of consumer personal loans in the United States rose to 15.82 million borrowers at the end of 2016, according to TransUnion.
"In January, revolving debt – such as credit cards – fell at the fastest rate in four years, by $45 billion nationwide," said Kevin Gallegos, vice president of Phoenix operations for Freedom Financial Network (FFN). "This drop could be good news, but we suspect the decrease is somewhat deceptive. For example, we know that some borrowers aren't increasing their revolving debt because they have maxed out their credit cards."
Freedom Financial Network's personal loan product, FreedomPlus, offers unsecured installment loans of up to $35,000 for consumers. Personal loans are increasingly popular among consumers who need funds to consolidate credit card debt or pay for large expenses such as adoption or a wedding. FreedomPlus is unique among personal lenders in that the company offers discounted rates for people with co-signers, those who have retirement savings, and consumers who will use the funds as debt consolidation loans and opt for FFN to directly pay their creditors. In addition to loans, the company provides assistance and advice for managing debt.
"The economy has been more successful in recent years – but for many people, costs are increasing while wages remain stagnant," added Andrew Housser, Freedom FFN co-founder and CEO. "The trend toward tighter personal budgets is driving more people to take out personal loans to find financial relief."
Freedom Financial Network observes several economic indicators closely and provides consumer education in its work to help consumers get out and stay out of debt. Recent financial data as reported:
1. Non-revolving debt continues to grow faster than revolving debt. In January (the most recent data available), total outstanding consumer credit rose by 2.8 percent to a total projected $3.773 trillion, excluding mortgage debt. In January, revolving debt (primarily credit cards) decreased at an annual rate of 4.6 percent. In contrast, non-revolving debt (debt for items such as vehicles and education, as well as unsecured installment loans) increased by 5.5 percent.
2. Personal income climbs again. In January (the most recent data available), personal income increased by $63.0 billion, or 0.4 percent. Disposable personal income increased by 0.3 percent, or $40.1 billion. Personal spending rose by 0.2 percent, a decrease from December, but at the same rate as November and down slightly from October 2016.
3. Consumers continue to save. In January (the most recent data available), consumers saved 5.5 percent of their personal disposable income – a total of $795.7 billion. This rate is comparable to the personal savings rate for 2016.
4. Unemployment level and discouraged workers remain steady. In February, the U.S. unemployment rate was 4.7 percent. Similar to months past, 1.8 million people are long-term unemployed (jobless for 27 weeks or more). Another 1.7 million people are marginally attached to the labor force, meaning they want to work and have searched for work during the past year, but not during the past four weeks. Of this population, half a million people – called discouraged workers – have given up looking for work completely because they believe no opportunities exist for them.
The FFN Quarterly Comment pulls together significant statistical releases and provides quarterly comment on timely debt and credit issues that matter to consumers. To schedule an interview with Andrew Housser, contact Aimee Bennett at 303-843-9840 or aimee(at)faganbusinesscommunications(dot)com.
Freedom Financial Network, LLC (http://www.freedomfinancialnetwork.com)
Freedom Financial Network, LLC (FFN), is a family of companies providing innovative solutions that empower people to live healthier financial lives. For people struggling with debt, Freedom Debt Relief offers a custom program to significantly reduce and resolve what they owe more quickly than they could on their own. FreedomPlus tailors personal loans to each borrower with a level of customer service unmatched in the industry. Bills.com helps homeowners better understand their loan options and make smarter mortgage decisions.
Headquartered in San Mateo, California, FFN also operates an office in Tempe, Arizona, and employs nearly 1,500 people. The company has been voted one of the best places to work in both the San Francisco Bay area and the Phoenix area for several years.