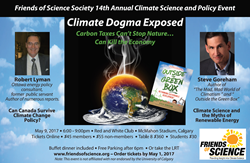 It is absurd to panic the public over news that 2016 is supposedly warmer by 0.02°C (two one-hundredths of a degree) than 2015, or to claim that could cause these wildfires.
Calgary, Alberta, Canada (PRWEB) March 23, 2017
Friends of Science Society is calling on the Deputy Governor of the Bank of Canada, to retract statements about climate change, global warming, extreme weather events, and "wildfires in Alberta" made in his March 2nd, 2017 address, recently republished in The Hill Times March 20, 2017 under the title "Thermometer Rising: climate change and Canada's economic future."
Friends of Science Society says this is the kind of climate hype they hope to expose at their upcoming annual event, May 9th, 2017 entitled "Climate Dogma Exposed." Ottawa energy economist Robert Lyman, a former public servant, will discuss "Can Canada Survive Climate Change Policy?" and American author Steve Goreham will cover "Climate Science and the Myths of Renewable Energy." See Eventbrite or http://www.friendsofscience.org for more information.
Though the World Meteorological Organization issued a statement Jan. 18, 2017, claiming that 2016 was the hottest year on record and it included a map of 'extreme events' that referenced Fort McMurray wildfires, Friends of Science says the margin of error on this value is 0.1°C-meaning 2016 could have been +0.12°C (global warming) or -0.08°C (global cooling).
"It is absurd to panic the public over news that 2016 is supposedly warmer by 0.02°C (two one-hundredths of a degree) than 2015," says Michelle Stirling, Communications Manager for Friends of Science, "or to claim that could cause these wildfires."
Stirling says 100-year temperature records of Fort McMurray, found on http://www.yourenvironment.ca do not show any trend of 'thermometer rising' – contrary to the title of Lane's article.
Early in 2016, the Alberta New Democratic Party had cut wildfire fighting budgets by $15 million as spring blazes were breaking out across the province as reported by CBC April 19, 2016. From a small fire discovered May 1, 2016, the Fort McMurray wildfire quickly blossomed into a catastrophic blaze and some ~80,000 people in the region evacuated through walls of flame and shrouds of smoke as reported by newspapers around the world, like the New York Times of May 5, 2016.
"Wildfire and climate experts tell us that following the strong natural El Nino of 2016, Alberta, Canada's boreal forests were drier than usual due to a combination of aging conifers, light winter snow cover, and an unusually cold, dry, polar vortex, which was ideal for curing wood," says Michelle Stirling, citing a research paper on SSRN. "It just took one human-caused intervention and the Fort McMurray wildfire began, initially a manageable 2-hectare blaze."
"Wildfires won't be stopped by carbon pricing or a 'low-carbon' economy," says Stirling. "In my opinion, it seems the banking and investment community are using unsupported claims and fear of climate catastrophe to mislead the public for commercial gain. Shameful that they are capitalizing on the pain of the people in Fort McMurray, Alberta, using climate hype to pitch their economically destructive carbon pricing."
Roger Helmer, UK Member of the European Parliament called their experiment with stringent climate policies and carbon taxes an, "industrial massacre."
About
Friends of Science Society has spent over 14 years reviewing a broad spectrum of literature on climate change and have concluded the sun is the main driver of climate change, not carbon dioxide (CO2). Friends of Science is made up of a growing group of earth, atmospheric and solar scientists, engineers, and citizens. Membership is open to the public.
Friends of Science Society
P.O. Box 23167, Mission P.O.
Calgary, Alberta
Canada T2S 3B1
Toll-free Telephone: 1-888-789-9597
Web: friendsofscience.org
E-mail: contact(at)friendsofscience(dot)org
Web: climatechange101.ca