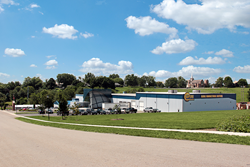 "SUPERB and Bihler along with their European partners pulls together a coalition of more than a thousand technical specialists."
Sugarcreek, Ohio (PRWEB) March 28, 2017
When the world leader for forming, assembly, automation and welding technologies partners with a progressive high tech manufacturer located in the heart of Ohio's Amish country known for its work ethic and superior craftsmanship, good things happen—more value is manufactured for global customers.
Maxine Nordmeyer, CEO of Bihler of America, Inc. of Phillipsburg, New Jersey, and John Miller, President of SUPERB Industries, Inc. of Sugarcreek, Ohio are pleased to announce the formation of a strategic alliance between Bihler and SUPERB.
Bihler technology combines stamping, forming and assembly technologies into one integrated manufacturing process. The Bihler process converts multiple raw materials by integrating key technologies, such as stamping, forming, welding, tapping, screw insertion, feeding, sorting, inspection, cleaning, and packaging into a fully automated solution to competitively produce a finished engineered component.
SUPERB's mission is to "make the world a better place one engineered component at a time" coupled with superior craftsmanship, unbeatable value and on-time performance. A strategic alliance with Bihler is a step forward to provide customers with a competitive advantage in the global marketplace.
Bihler and SUPERB have worked together over the years, leading Nordmeyer and Miller to realize that it would be mutually advantageous to leverage the strengths of their companies, share knowledge, and cooperate in marketing and sales efforts, all which will enable them to more effectively serve customers.
"We have been privileged to work with John Miller and all the people at SUPERB on a number of occasions. The natural next step was to formalize this working relationship into the strategic alliance. We look forward to realizing the many benefits that this alliance will bring to the customers of Bihler and SUPERB," said Nordmeyer.
"The new strategic alliance will provide us with the opportunity to offer to each of our customers the very best that Bihler and SUPERB can offer. SUPERB and Bihler along with their European partners pulls together a coalition of more than a thousand technical specialists. We look forward with great anticipation to providing the very best in high-speed manufacturing services to all of our customers," said Miller.
This strategic alliance extends Bihler's footprint in North America with SUPERB's engineering technology centers in Michigan and Ohio and sales engineering support in the U.S., Canada, and Mexico.
About Bihler of America, Inc.: Bihler of America, Inc. was founded in New Jersey in 1976 as the U.S. distributor of automated manufacturing machines made by the Otto Bihler Company in Halblech, Germany. Bihler has partnered with many companies worldwide, and has grown to be a leading producer of precision high-speed metal stamping, forming, welding, tapping, and multi-piece assemblies. For more than 40 years, Bihler's success has been built on outstanding technology, superior quality, comprehensive training, and a pervasive culture of excellence. http://www.bihler.com
About SUPERB Industries, Inc.: SUPERB Industries was founded in 1986, and its commitment to craftsmanship can be traces back to 18th century when Christian "Schmidt" Miller became an accomplished metal worker on the American frontier. John and son Daniel Miller are committed to combining this long tradition of craftsmanship with technological innovation, while producing excellence that is globally competitive. SUPERB is a high volume producer of engineered plastic and metal components with affiliated operations in Walnut Creek, Ohio a distribution center in Hong Kong, and technical support offices in Indiana, Michigan, North Carolina, and Ohio. http://www.superbindustries.com
About SUPERB Technical Institute: SUPERB Technical Institute a fully accredited technical training center with coursework in Bihler technology, advanced manufacturing, development and tool making augments Bihler's indisputable expertise in advanced manufacturing while supporting further deployment of Bihler technology in North America.