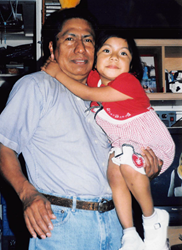 A verdict like this will hopefully send a message to the garment industry that management cannot discriminate against any worker regardless of his or her title. ~ Daniel Kramer, Lead Counsel, Kramer Holcomb Sheik LLP
Los Angeles, CA (PRWEB) March 24, 2017
A Los Angeles Superior Court jury has ruled in favor of a disabled, minimum wage worker deemed wrongfully terminated by high-end jeans manufacturer, 'Citizens of Humanity.'
According to court documents (Case No: BC521900), the jury found with clear and convincing evidence that 'Citizens of Humanity' acted with malice, fraud, and oppression. Noe Abarca, 61, worked as a quality control inspector for six years when his doctor placed him on a work restriction due to a long-term shoulder injury sustained by lifting boxes over the years. The day the restriction ended, the company fired Mr. Abarca. It was ruled that the Director of Human Resources fraudulently stated on the workers compensation form that 'Citizens of Humanity' had first learned of the injury on the day of Mr. Abarca's termination. Damages amounting to $650,000 were awarded, with a significant $550,000 designated punitive damages.
Noe Abarca was born and raised with eight brothers and sisters in a small hut made of rocks, hay, and cardboard in Guerro, Mexico.  He moved to the US in 1981 and became a permanent resident under President Reagan's amnesty program, paying taxes and working in the garment industry for the past 30 years.  He raised six daughters; five have gone on to UCLA, UC-Berkley, UCSD, USC and CSUN, his youngest is 11-years old.  Mr. Abarca had never filed a lawsuit or any claim before being fired from his job at 'Citizens of Humanity.'
Mr. Abarca was represented by Los Angeles attorneys Dan Kramer and Teresa Johnson of Kramer Holcomb Sheik LLP, along with Michael Burgis and Zhenia Burgis of Michael Burgis and Associates.
Lead counsel Dan Kramer of Kramer Holcomb Sheik LLP said: "a verdict like this will hopefully send a message to the garment industry that management cannot discriminate against any worker regardless of his or her title."
ABOUT KRAMER HOLCOMB SHEIK LLP
Kramer Holcomb Sheik LLP (KHS) is a full-service litigation and transactional law firm concentrating on personal injury, business, intellectual property, wrongful death, entertainment, and employment law. The firm is a winner of the 2016 Top 100 Verdicts. https://www.khslaw.com