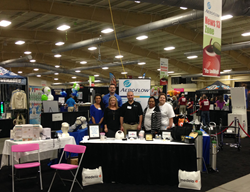 Asheville, NC (PRWEB) March 24, 2017
Aeroflow Healthcare will have a booth at the 4th annual LiveWell Expo, set to occur on Saturday, March 25 from 9 a.m. to 5 p.m. The health-centered event will be held at the WNC Agricultural Center in Fletcher, North Carolina. Entrance to the event is free for all guests.
This will be Aeroflow's third year attending the expo, and representatives will focus on sharing the benefits of the company's extensive medical supply program. Aeroflow representatives will be in attendance to answer questions related to medical equipment and qualifying through insurance. They will also conduct live product demonstrations and provide education on durable medical equipment.
"This year's expo will be a great way for us to connect with current patients and have the opportunity to meet possible new patients," says Philip Apostolico, Outside Sales Adult Division Manager at Aeroflow. "We are very excited to share our support for the community."
The LiveWell Expo features over 120 vendors, live entertainment throughout the day, and live cooking demos from local chefs on the Carolina Kitchen stage. Guests will also be able to get free health screenings from local businesses and can participate in a blood drive during the expo.
In 2015 and 2016, Aeroflow was named in Inc. 5000 magazine as one of the fastest growing private companies in America. Aeroflow is an accredited Medicare and Medicaid provider and accepts most commercial insurances. For any questions about Aeroflow Healthcare's programs, or if you have interest in their services as a durable medical equipment supplier, visit aeroflowinc.com or call (888) 345-1780.