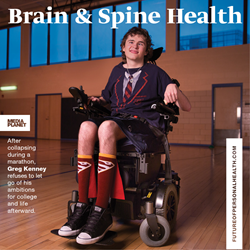 17-year old Greg Kenney graces the cover of Mediaplanet's Brain & Spine Health campaign
New York, NY (PRWEB) March 23, 2017
Helping to conclude Brain Injury Awareness Month, Mediaplanet announces the launch of their first edition of "Brain and Spine Health". This campaign will educate readers on brain and spine health, while highlighting the specific programs and products that are providing the best treatment and resources in the industry.
Every year, thousands of Americans experience a brain or spinal cord injury. These injuries can be devastating, causing both physical and emotional distress. Mediaplanet tackles this important topic to empower patients and their caregivers by educating the public on ways to prevent injury and improve care.
17-year-old Greg Kenney graces the cover of the print publication. Through an exclusive interview, Greg shares his story about the incident that left him with a severe brain injury. "He had no oxygen and no blood to his brain for 15 minutes," recalls his mother, Stephanie Watson, who explains the lack of oxygen left her son with a severe brain injury. "He was completely paralyzed. He was in a coma." Since then, he has fought tirelessly to recuperate and inspire everyone in his path. Currently in a wheelchair, his goal is to walk across the stage to get his diploma this coming spring.
The print component of "Brain and Spine Health" is distributed within today's edition of USA Today in the New York, Chicago, San Francisco, Los Angeles, Dallas and South Florida markets, with a circulation of approximately 250,000 copies and an estimated readership of 750,000. The digital component is distributed nationally, through a vast social media strategy, and across a network of top news sites and partner outlets. To explore the digital version of the campaign, click here.
This campaign was made possible with the support of the Christopher and Dana Reeve Foundation, Kennedy Krieger Institute, National Brain Tumor Society, ASET – The Neurodiagnostic Society, Doug Heir, North American Spine Society, Caregiver.com, NMEDA, American Chronic Pain Association, and many more.
Summary for Search Engines: In support of Brain Injury Awareness Month, Mediaplanet with Christopher and Dana Reeve Foundation and more launches Brain and Spine Health Campaign within USA TODAY and online
About Mediaplanet 
Mediaplanet is the leading independent publisher of content marketing campaigns covering a variety of topics and industries such as Health, Education, Lifestyle, Business and Technology, and Corporate Social Responsibility. We turn consumer interest into action by providing readers with motivational editorial, pairing it with relevant advertisers and distributing it within top newspapers and online platforms around the world. Please visit http://www.mediaplanet.com for more on who we are and what we do.
Press Contact:
Sarah Linnemann
Sarah.linnemann(at)mediaplanet(dot)com
646-518-5423