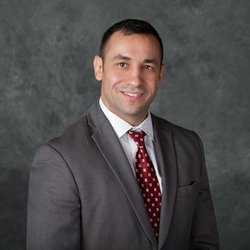 the firm is excited to have Lieutenant Colonel Noah Fontanez bolster our existing practice with his extensive knowledge of aviation, and oil and gas law
Leesburg, Virginia (PRWEB) March 25, 2017
Dunlap Bennett & Ludwig is proud to announce that Attorney Lt. Col Noah Fontanez and Shannon Broyles, both formerly of Fontanez Law Firm, have joined their exceptional legal team, expanding the Firm's presence to Tulsa, Oklahoma. Noah Fontanez will expand upon Dunlap Bennett & Ludwig's existing corporate, business, and litigation practices while providing new expertise. This expansion will allow the firm to serve new and existing clients more efficiently by increasing capacity and available services.
Tom Dunlap, founding partner of Dunlap Bennett & Ludwig, stated "the firm is excited to have Lieutenant Colonel Noah Fontanez bolster our existing practice with his extensive knowledge of aviation, and oil and gas law."
When asked what Noah Fontanez is most excited about when it comes to joining Dunlap Bennett & Ludwig, he stated "Dunlap Bennett & Ludwig has a large marketing base and has developed, over the years, the credibility of a firm that gets results." Noah Fontanez first became interested in oil and gas law while attending school at the University of Tulsa College of Law. Noah stated that "Oklahoma is kind of the hub of energy law and oil and gas" and to him, it made sense to take a class in that area of law. He then went on to the Army JAG Corp and later combined his experience in the military with his knowledge of oil and gas law and took a job as in-house council at Samson Resources; one of the largest producers of oil and gas in the United States at that time. He cited his three years of hands-on experience at Samson Resources with setting the foundation on which he was able to build his own successful practice, Fontanez Law Firm, which he founded in 2009.
Noah stated that the most rewarding aspects of what he does is being able to get the best results for his clients, to hear his name associated with positive comments, and "to take something, build it, and have continued success."
The addition of Noah Fontanez and Shannon Broyles to the Dunlap Bennett & Ludwig team builds on their practice of offering all clients the affordable and accessible legal counsel needed to secure future success.
Dunlap Bennett & Ludwig was founded in 2001 as a two-man team, which built an expansive clientele network on the foundation of uncompromised integrity, quality, and accessibility.