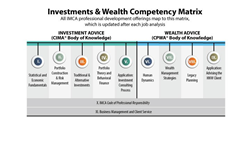 Denver, Colorado (PRWEB) March 24, 2017
The Investment Management Consultants Association® (IMCA®) announced today the development of its new Investments and Wealth Competency Matrix, a framework designed to ensure that IMCA's advanced education for investment and wealth management professionals remains on the forefront of an evolving industry.
"IMCA's Investments and Wealth Matrix defines the competencies that investment and wealth professionals need today to exceed a high-net-worth individual [HNW] or an institutional investor's expectations," said Sean Walters, CAE, chief executive officer, IMCA. "Based on a continuous analysis of active member practitioners' job tasks, the matrix focuses on key subject areas to blend the best of theory and applied practices. We use the insights our members provide to refine and develop our educational products, test them to meet rigorous standards, evaluate them for improvement and examine them to ensure they meet the ethical requirements established by IMCA's Code of Professional Responsibility."
Through the domains covered in the matrix, experienced professionals can receive live or online education on several topics to increase their ability to provide investments or wealth advice (see graphic below). Domains include: statistical and economic fundamentals, portfolio construction and risk management, traditional and alternative investments, portfolio theory and behavioral finance, application of the investment consulting process, human dynamics, wealth management strategies, legacy planning and advising HNW clients. In addition to serving as the required standards for providing investments and wealth advice, the competencies and ethical standards included in the matrix are integral to IMCA's key credentialing programs, the Certified Investment Management Analyst® (CIMA®) and Certified Private Wealth Advisor® (CPWA®) certifications.
In 2016, IMCA's live and online education and credentialing programs hosted more than 7,500 professionals. The matrix also supports delivery of IMCA's catalog of educational offerings. The most rigorous and comprehensive programs delivered by IMCA are the CIMA and CPWA certifications, followed by IMCA's four assessment-based online courses, the Master's Series (delivered in partnership with premier business schools), IMCA's conference series, Focus Series (seminars covering disruptive trends in government, investing, business and technology), and the IMCA Continuing Education library, which includes individual webinars and topical content bundles. Additional information on IMCA's educational programs is available at http://www.imca.org or contact Greta Gloven, director of communications, ggloven(at)imca(dot)org or 303-850-3079.
About IMCA
Established in 1985, IMCA is a nonprofit professional association and credentialing organization serving individual members and certificants in 37 countries around the world. IMCA members collectively manage more than $3 trillion, providing investment consulting and wealth management services to individual and institutional clients. Since 1988, IMCA has offered the Certified Investment Management Analyst® (CIMA®), which meets international accreditation standards (ANSI/ISO 17024) for personnel certification. The CIMA certification consistently distinguishes those who meet a global standard of competency and skills in investment management from those who do not. IMCA's Certified Private Wealth Advisor® (CPWA®) certification is suited for wealth management professionals working with high-net-worth clients. In 2016, IMCA's educational programs hosted more than 6,000 professionals.
IMCA® and Investment Management Consultants Association® are registered trademarks of Investment Management Consultants Association Inc. CIMA®, Certified Investment Management Analyst®, CIMC®, CPWA®, and Certified Private Wealth Advisor® are registered certification marks of Investment Management Consultants Association Inc. Investment Management Consultants Association Inc. does not discriminate in educational opportunities or any other characteristic protected by law.