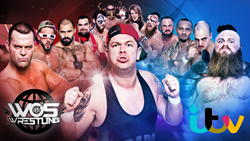 "Britain's wrestling scene is thriving and there has never been a better time to bring it back to ITV after a gap of 30 years" - Tom McLennan, Director of Entertainment, ITV Studios Manchester
NASHVILLE (PRWEB) March 24, 2017
MANCHESTER | ITV Studios Entertainment Manchester announced today that it has teamed up with IMPACT Wrestling, a subsidiary of Anthem Sports & Entertainment Corp., to bring WOS Wrestling back to ITV, with an initial commission for a 10-part series.
The commission from ITV's Helen Warner follows a successful one-off-special, which aired on New Year's Eve 2016. The Executive Producers for ITV Studios are Tom McLennan and Simon Marsh. Jeff Jarrett, the Chief Creative Officer for IMPACT Wrestling, will be the Executive Producer for IMPACT Wrestling.
Thirty years after the original WOS ended – and legendary stars such as Big Daddy, Mick McManus and Rollerball Rocco left British screens – this new series will feature the very best of today's wrestlers from the current red-hot U.K. wrestling scene.
They will compete in front of a live audience at the intimate Preston Guild Hall on Thursday 25th May and Friday 26th May (doors 7pm / bell time 7.30pm).
Tickets for these historic shows will go on sale at 9am on Friday 7th April from Gigsandtours.com / Ticketmaster.co.uk / prestonguildhall.co.uk
There will also be a launch event this Monday (27th March) at 2 pm in Manchester, where the full details of the WOS live shows will be announced, including the roster. Press and fans are invited to attend to the launch, which will include a Q&A and meet & greet. Places are extremely limited, to reserve one please email wswaudience(at)itv(dot)com
This initial commission is part of a comprehensive co-production agreement between ITV Studios and IMPACT Wrestling to relaunch the WOS Wrestling brand, bringing British stars to ITV while leveraging the roster and creative team of IMPACT Wrestling along with its expertise in live event production and international distribution.
"This opportunity to work with ITV Studios to revive this iconic brand in the United Kingdom is a perfect example of the ways in which we intend to leverage our strengths to build our presence in international markets in collaboration with local organizations," said Ed Nordholm, president of IMPACT Wrestling.
Director of Entertainment, ITV Studios Manchester, Tom McLennan said: "Britain's wrestling scene is thriving and there has never been a better time to bring it back to ITV after a gap of 30 years."
Jeff Jarrett, Chief Creative Officer for IMPACT Wrestling, added: "The WOS brand is etched in professional wrestling tradition. My family's lineage in the industry dates back 70-plus years, so I am honoured for the opportunity to work on reviving the legacy of this historic British series."
PRESS CONTACTS:
ITV
Jo Farrelly
Jo.farrelly(at)itv(dot)com
IMPACT WRESTLING / ANTHEM
Simon Rothstein
simon(at)srxconsultancy(dot)com
Ariel Shnerer
Director, Programming & Communications
Anthem Sports & Entertainment Corp.
ashnerer(at)anthemse(dot)com
About IMPACT Wrestling
IMPACT Wrestling specializes in television properties, events, products, merchandise and music, as well as the management and promotion of professional wrestlers. The roster features such greats as EC3, Bobby Lashley, Eddie Edwards, Davey Richards, James Storm, the high-flying X-Division, Gail Kim and the lovely and lethal Knockouts. Its highly successful flagship, IMPACT WRESTLING, broadcasts in more than 120 countries around the world, including Thursdays at 8 p.m. ET/PT on Pop, a joint venture of CBS Corporation and Lionsgate, in the United States and on Fight Network in Canada.
About Anthem Sports & Entertainment Corp.
Anthem Sports & Entertainment Corp. is a global sports media company and a leader in operating targeted specialty video channels on linear, digital and mobile platforms with offices and studios in New York, Toronto, and Los Angeles. Anthem's portfolio includes Fight Network, the world's premier combat sports channel now broadcasting in the U.S., Canada and over 30 other countries, Fantasy Sports Network (FNTSY), the world's first and only channel dedicated to fantasy sports, GameTV, a Canadian channel specializing in game-related programming such as game shows, reality series, movies and sports available in over 9 million homes, IMPACT Wrestling, a professional wrestling promotion specializing in television properties, events, products, merchandise, music, as well as the management and promotion of professional wrestlers, RotoExperts.com, a leader in fantasy sports news and analysis, DailyRoto.com, the most comprehensive and far-reaching daily fantasy sports website and Edge Sport, an extreme and action sports network recently launched in Canada in partnership with IMG. Anthem also has a significant ownership interest in Pursuit Channel, one of the top outdoor channels in the U.S. available in over 40 million homes, and it owns SportsGrid.com, a leader in general sports entertainment commentary.