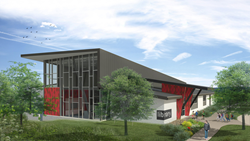 Our team feels a great sense of accomplishment that the design goals for this building to become a landmark in this community, and a gateway into the east side of San Antonio, have been realized,.
San Antonio, Texas (PRWEB) March 27, 2017
The San Antonio Public Library celebrated the grand opening of its newest location, the Schaefer Branch Library, with community members and local leaders. Designed by LPA Inc., a San Antonio integrated design firm, the new 12,000-square-foot library is a full-service library and includes adult reading areas, a teen area, children's activity and reading areas, flex meeting spaces and staff spaces.
Located on a site donated by local landowners, the Schaefer family, the library serves as a landmark for the neighborhood and a gateway into San Antonio for those traveling along Highway 87. Recognizing the significance of a community center such as a public library, a group of passionate community members diligently engaged in the outreach and planning required to bring this project to life. San Antonio Public Library encouraged community involvement by holding a series of public input meetings during the design phase of the project. These meetings were invaluable and helped inform the design of the amenities and services the library would offer to the developing region.
"Our team feels a great sense of accomplishment that the design goals for this building to become a landmark in this community, and a gateway into the east side of San Antonio, have been realized," says LPA Principal Mickey Conrad. "This formerly underserved area now has a library that will serve as a cultural beacon, enriching the lives of all who use it."
To convey the building as a beacon, the architectural design includes an angular roof and pops of red metal panels at the entrance. The site is master planned to have amenities that invite patrons to stay and enjoy the peaceful environment, such as children's play areas and quiet reading spaces, and serves as a trailhead for a proposed trail through the neighborhood, planned to the west of the library's site.
Taking inspiration from its light industrial setting, exposed steel frames, angled columns and signage are visible from the exterior and interior of the building. At night, the building's transparent north façade allows for the interior lighting to stream out into the landscape, making the building easily visible from the highway in the evening. Continuing the industrial theme indoors, a local artist, Cakky Brawley, provided art installation pieces. The art piece includes historical and present day maps—conveying a connection between the past and present—and centered between the two maps is a compass made of galvanized metal.
To balance the industrial look of exposed steel, designers chose white exterior finishes and simple white walls on the interior space. Further brightening the space, the interior of the building is bathed in daylight due, in part, to the floor-to-ceiling, north-facing windows. In addition to natural daylighting, other sustainable design features include a white upper roof which helps reflect heat, LED fixtures incorporated throughout the space and potential for future rainwater collection on-site.
The white walls on the interior are accented with reds and oranges to highlight special areas, such as the circulation desk, the group and individual study rooms and the collaborate digital meeting room. The teen area accommodates individual study, group study and play all within a transparent glass box—providing the teens with their own special space, while still allowing for supervision. Another special area, used to host children's activities, is located on the opposite end of the library and is comprised of sloping, translucent plastic panels and can become whatever the children imagine. The fun continues outdoors. Working with Kingdom for Kids, a local charitable organization that offers playground equipment and installation, volunteers from the Rotary Club of San Antonio and LPA helped install a playground in the outdoor courtyard.
"This Library branch was realized on a foundation of civic engagement, grassroots organizing, and the belief in the power of libraries to change lives through the transformative power of information, imagination, and ideas," said Ramiro Salazar, Director of the San Antonio Public Library. "We are so excited to bring this long-awaited and innovative library to this community."
About LPA Inc.
Founded in 1965, LPA has more than 350 employees with offices in San Antonio and Irvine, Sacramento, San Diego and San Jose, California. The firm provides services in architecture, sustainability, planning, interior design, landscape architecture, engineering and graphics. With a proven commitment to integrated sustainable design, LPA designs facilities that span from K-12 schools, colleges and universities and corporate, healthcare and civic establishments. More than 700 major design awards attest to LPA's commitment to design excellence. For more information, visit http://www.lpainc.com.
About San Antonio Public Library
For more than 110 years, the award-winning San Antonio Public Library (SAPL), has been a vital center for free learning, knowledge, communication, culture and enjoyment within the City of San Antonio and for all Bexar County residents. The Library system is comprised of a world-class Central Library, 28 branch libraries and a library outlet at the Briscoe Western Art Museum. Collections include an extensive collection of eBooks, eAudiobooks, movies and music as well as physical items such as printed books and DVDs. All locations are hubs for WiFi broadband access and provide access to computers and other digital technology. In addition, Central Library and branches offer programs to serve the needs and interests of the community, including programs for all ages that support early childhood literacy, education, culture and economic development. For more information, visit mysapl.org.