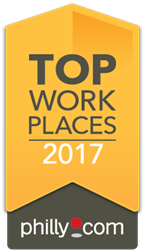 "We are extremely proud to be recognized for the 4th straight year as one of the Top Workplaces in Philadelphia," said Paul Black, CEO of Comm Solutions. "Ranking in the Top Workplace list, especially #4, is an achievement that we strive for every year."
Malvern, PA (PRWEB) March 27, 2017
Comm Solutions has been awarded a 2017 Top Workplaces honor by Philly.com. The Top Workplaces lists are based solely on the results of an employee feedback survey administered by WorkplaceDynamics, LLC, a leading research firm that specializes in organizational health and workplace improvement. Several aspects of workplace culture were measured, including Alignment, Execution, and Connection, just to name a few.
"The Top Workplaces award is not a popularity contest. And oftentimes, people assume it's all about fancy perks and benefits." says Doug Claffey, CEO of WorkplaceDynamics. "But to be a Top Workplace, organizations must meet our strict standards for organizational health. And who better to ask about work life than the people who live the culture every day—the employees. Time and time again, our research has proven that what's most important to them is a strong belief in where the organization is headed, how it's going to get there, and the feeling that everyone is in it together." Claffey adds, "Without this sense of connection, an organization doesn't have a shot at being named a Top Workplace."
"We are extremely grateful and proud to be recognized for the fourth year in a row as one of the Top Workplaces in Philadelphia," said Paul Black, Chief Executive Officer of Comm Solutions. "Ranking within the Top Workplace list, especially #4, is an achievement that Comm Solutions' strives for every year. Our team is tremendously talented and enthusiastic about the continued growth and expansion of the company, and this award confirms the positive culture that we have created which provides the vital building blocks for delivering superior results to our customers."
Paul Black and John Black, President of Comm Solutions, were also presented with the Top Leadership Award. Paul Black shared "I'm humbled for my brother John and I to be recognized with the Top Leadership honor this year, especially because the Philadelphia area has a lot of great business leaders and the competition is fierce. Over time, we have really strived to develop a collaborative culture that brings out the best in our team. Our employees know that they are valued and that their ideas for improving how we do business are essential to our continued growth. I think everybody really enjoys being a part of that."
###
About Comm Solutions
Comm Solutions, an Optiv company, is an end-to-end technology solutions provider specializing in the design, development, deployment, and support of enterprise level solutions for security, infrastructure and storage in the corporate, education and healthcare markets. Our goal is to work with our clients to help them identify what is best for their architecture and the needs of their company.
Comm Solutions maintains excellent alliances with "Best in Class" technology vendors, to see a full list of our partners please visit our website. The highly skilled and certified specialists at Comm Solutions understand how to leverage these technologies to shorten deployment cycles. As advocates for clients, Comm Solutions strategically aligns their clients' business and IT objectives to provide the best overall value and ROI on technology deployments.
About WorkplaceDynamics, LLC
Headquartered in Exton, PA, WorkplaceDynamics specializes in employee feedback surveys and workplace improvement. This year alone, more than two million employees in over 6,000 organizations will participate in the Top Workplaces™ campaign—a program it conducts in partnership with more than 40 prestigious media partners across the United States. Workplace Dynamics also provides consulting services to improve employee engagement and organizational health. WorkplaceDynamics is a founding B Corporation member, a coalition of organizations that are leading a global movement to redefine success in business by offering a positive vision of a better way to do business.