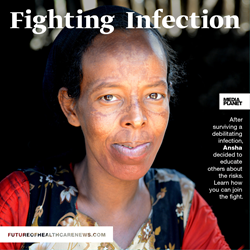 Infectious disease affects billions of people on a global scale; from third world countries to hospitals in the United States...
New York, NY (PRWEB) March 24, 2017
Infectious disease affects billions of people on a global scale; from third world countries to hospitals in the United States, it's a threat that is constantly changing and evolving. Mediaplanet's "Fighting Infection" campaign sparks a conversation on the current obstacles facing infection prevention and offers strategies for the healthcare community to help decrease the number of completely preventable deaths caused by these infections.
The discussion of fighting infection covers large scale issues from poverty, to hospital acquired infections, to antibiotic resistance. The solution to fighting infection lies in the recognition that these issues are intertwined and need to be problem solved by encouraging patients and healthcare workers to work together.
Ansha, an Ethiopian mother and patient healing from Trachoma trichiasis, graces the cover of the print campaign. Her story of triumph over infectious disease is just one example of what is possible when education, funding and treatment come together to offer a patient a new lease on life.
The print component of "Fighting Infection" is distributed within the Friday, March 24th regional circulation of the weekend edition of USA Today, with a circulation of approximately 250,000 copies and an estimated readership of 750,000 within the New York, DC/Baltimore, Minneapolis, Houston and San Francisco markets. The digital component is distributed nationally, through a vast social media strategy and across a network of top news sites and partner outlets. To explore the digital version of the campaign, click here.
This edition of "Fighting Infection" was made possible with the support of National Institute of Allergy and Infectious Diseases, Society for Healthcare Epidemiology of America, Association for Professionals in Infection Control and Epidemiology, Infectious Diseases Society of America, Association of periOperative Registered Nurses, Surgical Infection Society, Malaria No More, American Society of Microbiology, DebMed, Germ-X, Clinical RM, Christian Blind Mission, 3M, ESRI, Halyard Health, Hardy Diagnostics, ICP Medical, TRSA, Accelerate Diagnostics, Nuvo Surgical, Filtration Group Corporation, Molnlycke Health and Wockhardt and many more.
About Mediaplanet
Mediaplanet is the leading independent publisher of content marketing campaigns covering a variety of topics and industries such as Health, Education, Lifestyle, Business and Technology, and Corporate Social Responsibility. We turn consumer interest into action by providing readers with motivational editorial, pairing it with relevant advertisers and distributing it within top newspapers and online platforms around the world. Please visit http://www.mediaplanet.com for more on who we are and what we do.
Press Contact:
Jamie Bradley
Jamie.bradley(at)mediaplanet(dot)com
646-922-1404