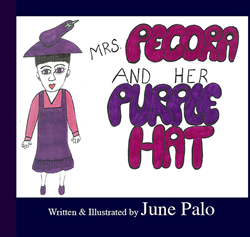 A children's book for the whole family
Staten Island, New York (PRWEB) March 27, 2017
Thursday, March 30th at the PepperJack Grill in Staten Island, Boulevard Books releases Mrs. Pecora and Her Purple Hat, the first book in a series by author and artist, June Palo. The series takes Mrs. Pecora and her family through their journey of ordinary days, which become extraordinary. The book is inspired by June Palo's family, heritage, tradition, and culture.
June Palo is an Italian American Artist, writer, poet, singer/songwriter, and guitarist. She was born in Brooklyn to parents who encouraged her creativity. She began to sing at the age of 5, drawing at age 7, writing at age 8 and playing guitar at age 10. June is inspired from family and friends and every day life. She has been an educator for 30 years and taught art and music to students in Brooklyn and Staten Island
Boulevard Books is an educational publishing company founded in 2010 by author Avi Gvili. Described as the UBER of publishing, it aims to publish the newest voices of the 21st century by empowering authors with ownership of their work.