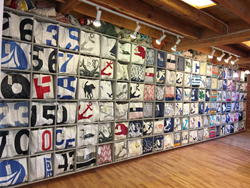 We're excited about opening our first store in tax-free New Hampshire.
Portsmouth, New Hampshire (PRWEB) March 27, 2017
Shoppers in downtown Portsmouth will get a feel for handmade items from recycled sails by maker and designer, Sea Bags, at the company's largest retail store. The new 1,100 square foot space is located just off Exit 7 at 129 Market Street overlooking the Piscataqua River and nearby Portsmouth Harbor Cruises. This will be the tenth store in a shorefront destination for the rapidly growing company.
Sea Bags CEO, Don Oakes, has said, "We've been interested in opening in Portsmouth for some time and when this location on the historic waterfront came to us we jumped on it. The town shares much in common with our home in Portland, including the characteristic brick buildings, views of the working waterfront, and walkable shopping. We're excited about opening our first store in tax-free New Hampshire."
The new store will carry all of Sea Bags' designs and seasonal collections, including totes and home accessories. It will also carry Portsmouth-specific designs and nautical merchandise by select New England artisans.
Local sailors will also get a kick out of visiting the new store. Retail staff will perform sail trades, which means anyone with a used sail can exchange it for a product through the company's Sail Trade Program.
Sea Bags in Portsmouth opens daily Monday through Saturday 10 a.m. to 6 p.m. and Sunday 10 a.m. to 5 p.m. Products are also available online at http://www.seabags.com or at any of its nine other retail locations.
###
About Sea Bags, LLC:
Founded in 1999, Sea Bags started making fun, functional and stylish totes from reclaimed sailcloth in the historic Old Port district of Portland, Maine. Today, the company makes a diverse line of totes, bags, and home goods, all featuring material from sails that were once actively used. The extensive use of reclaimed sailcloth is unique to Sea Bags. Signs of hard sailing can be seen in every Sea Bags creation, making them as individual and unique as their owner. To learn more about Sea Bags and the stories their sails tell, go to http://www.seabags.com, visit them at 25 Custom House Wharf in Portland, Maine or at their retail stores in Freeport, ME; Cape May, NJ; Chatham, Rockport, Newburyport and Mashpee, MA; Mystic, CT; Greenport, NY; and Portsmouth, NH.