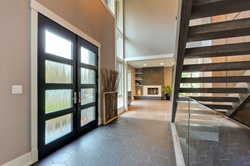 Way beyond just a fresh coat of paint, a custom door says to the world, 'This place is really special.'
Chicago, Illinois (PRWEB) May 02, 2017
It's the first thing you see when you enter and the last thing you see when you leave. As the threshold between the outside world and the comforts within, the entry of a house speaks volumes. It's no wonder, then, that a growing trend in Chicago homes is custom front door design. Homeowners increasingly desire unique facades that reflect their home's true personality. The recently-opened Glenview Haus showroom in River North is here to answer that call.
Greg Wozniak, longtime owner of Glenview Doors, noticed an increasing demand for custom work that he could not ignore. Late last year, he opened the Glenview Haus showroom to cater to architects, interior architects, and interior designers looking for truly custom doors to match their vision. Glenview Haus can tailor every aspect of an entry door's design to their clients' needs and specifications, from the wood of choice, to the shape, size, style, finish, hardware, and detailing. Custom front doors are a large portion of the business.
"We have seen a huge surge in sales for remodeling projects, as well as to homeowners getting ready to sell," says Wozniak. "A custom front door stands out. It commands attention. Way beyond just a fresh coat of paint, a custom door says to the world, 'This place is really special.' The increasing demand for custom front doors tells me that more homeowners are serious about increasing their curb appeal, and more architects and designers are taking the opportunity to truly distinguish their designs."
When asked if there are specific trends within front door design to look out for, Wozniak suggests that it's all a matter of personal taste, as well as architectural style and interior design. "In modern homes, we're seeing a lot of clean lines, rift cut wood, custom glass and stainless steel accents. Concealed hinges and pivot hinges are very popular. For traditional and transitional homes, we're seeing both paint grade doors in various styles, wood doors in walnut or mahogany, and raised panels and molding profiles in custom shapes. This spring, we've had many requests for high-gloss finishes in fun, bright colors. Again, it all comes down to personal taste."
Wozniak also notes that European sandwich construction doors are gaining popularity over solid wood doors, partly due to his commitment to educating clients about their benefits. Many front entries in Chicago buildings don't have overhangs, which offers little protection against the elements. The new modern European doors are engineered to resist warping over time and require far less maintenance than solid wood. "I love solid wood doors, but the Euro doors will last a lot longer if you don't have an overhang. If you're investing time and money into the perfect front entry, you want to make it last."
About Glenview Haus - Custom Doors & Wine Cellars
Located in the heart of Chicago's historic River North design district, Glenview Haus is the premier destination for custom interior and exterior doors, wine cellars, and cabinetry. From design, field measurements, and technical drawings to production, pre-finishing, and white glove installation, the experts at Glenview Haus are equipped to handle everything and ready to collaborate. With a range of styles from traditional to modern and a wide range of customization options available, the only limit is imagination. For more information, visit http://www.glenviewhaus.com.