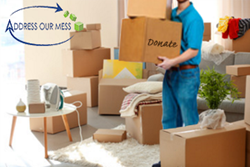 Address Our Mess is bringing in the spring season by helping hoarders and "clutterers" clean up.
Baltimore, MD (PRWEB) March 28, 2017
Address Our Mess is bringing in the spring season by helping hoarders and "clutterers" clean up.
For those who have let their clutter build up all winter, the warm weather is usually inspiration to dive into spring cleaning. The motivation from the New Year usually comes back tenfold and makes people want to start with a fresh, clean home for the spring and summer.
But for hoarders, spring cleanup is usually inspired by a little more than motivation. March and April signals the time of year code enforcement officers begin their inspections. Most hoarded home are overrun with fire hazards, health hazards, sanitation issues, and more. Following some of these tips may help avoid a citation, but there's no way to guarantee any hoarded home will pass inspection. For homes that fail, occupants may be subjected to heavy fines and even eviction.
In situations where the city gets involved, hoarders are usually given a specific amount of time to clean up, turning their homes into an emergency situation. Unpacking years of clutter in a time frame of 30 days or less often becomes an impossible task for homeowners to take on themselves.
This spring, Address Our Mess is helping clean up these kinds of emergency situations. For both homeowners looking for a fresh start and those facing eviction, our teams are here to help. Each cleanout is different, so a case manager is assigned to every project to work with homeowners and coach them through the cleaning process.
Teams set out with the primary goal of working with homeowners to make them feel comfortable. Together they decide what should be kept, donated, and thrown away. Our customer is in complete control and their only responsibility throughout the whole process is to make decisions. Address Our Mess handles all the heavy lifting, hauling trash away, handling storage transportation, and removing all donated belongings. Technicians will also take care of deep cleaning the home, if necessary.
Address Our Mess makes sure homeowners don't have to go through the cleanup process alone. Whether they're cleaning up because they want to or because they have to, it's important that the cleanup gets done and they have a safe and functional environment to live in.
About Address Our Mess
Address Our Mess is a professional specialty cleaning company that handles hoarding, clutter, sorting, removal, and large organizational projects. The company has a mission to help give a fresh start to as many people as possible.