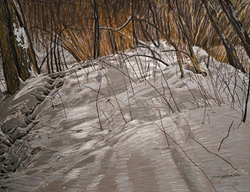 Rocky River, Ohio (PRWEB) April 03, 2017
Linda Gross Brown started off another successful year with her painting "Footsteps #15" being accepted into the 84th Annual National Juried Exhibition of the Hudson Valley Art Association at the Salmagundi Club, New York, NY, running from April 30th through May 5th. Linda has been a perennial favorite at the Salmagundi Club, winning such awards as the Pastel Society of America Award in 2014 and the William Alfred White Memorial Award in 2012.
Continuing the year, "Footsteps #16" was accepted into the Fourth International Association of Pastel Societies' Master Circle Exhibition, at the IAPS 2017 convention in Albuquerue, New Mexico, running from June 7th through June 10th. Linda was honored with the award of "Master Pastelist" by IAPS in 2010.
Later in the year, Linda could once again be showing her works to an international audience. This summer Linda's works will be entered into two French shows, the Salon International du Pastel de Giverny 2017 from May 27th to June 4th and the 2017 Biennial Pastel Salon in Bretagne from August 12th to August 27th.