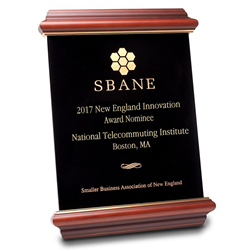 'We are proud to be recognized by SBANE as a leader in Innovation through our work supporting Americans with Disabilities." Michael Sanders, Director of Marketing, NTI
Boston, MA (PRWEB) March 28, 2017
National Telecommuting Institute (NTI) has been selected by The Smaller Business Association of New England (SBANE) as a nominee for the 2017 New England Innovation Award. The nomination comes as result of NTI's tireless advocacy work and unique methodology in raising awareness for individuals with disabilities and disabled Veterans.
SBANE has been honoring innovative companies since 1986. Prestigious companies such as Staples, Nantucket Nectars, Ben & Jerry's, Brooks Automation, Genzyme Corporation, KRONOS, and iRobot have all won the New England Innovation Award in the past.
Prior to selecting NTI as a nominee, judges reviewed more than 200 companies. Criteria included:

A compelling idea/technology
The ability to demonstrate significant benefit to users while addressing a market need or creating a new market
Marketplace success measured by profit, volume, growth rate, customer commitments, user reviews, ROI, and/or market impact
The initial step in the judging process of the New England Innovation Awards will be held on Tuesday, March 28th from 5:30 to 8:30 PM at The Conference Center at Bentley University. NTI's Chief Operating Officer, Alan W. Hubbard, and Director of Marketing, Michael T. Sanders, will present to a series of judges the innovations in social media and direct marketing that have led NTI to become such a successful advocate for persons with disabilities. Hubbard and Sanders will discuss NTI's social media efforts, partnerships with like-minded organizations, and public events to advocate equality for Americans with disabilities. Leadership in those areas led to the honoring of NTI by the City of Boston as well as a Proclamation from former President Barack Obama at the end of 2016.
If selected from among the 200 nominated organizations, NTI will proceed to the finalist presentation on Thursday, May 11, 2017, 5:00 to 9:00 PM.
About NTI: National Telecommuting Institute (NTI) is a 501 (c)(3) not-for-profit organization with headquarters in Boston, MA. It has been supporting Americans with disabilities since 1995. NTI provides training and job placements in work-at-home positions across the United States. NTI pioneered staffing virtual call centers with Americans with Disabilities, including Disabled Veterans, who work from home.
About SBANE: The Smaller Business Association of New England, Inc. (SBANE), founded in 1938, is a private not-for-profit association of approximately 600 member companies located throughout a six-state region. SBANE was established to provide a legislative voice for small business at the state and federal levels and to make practical information available to help business owners grow their companies. SBANE runs diverse educational programs each year and has active chapters in Massachusetts and Rhode Island. Membership is characterized by a high degree of participation, reflected in a large and dynamic committee structure, addressing a range of topics from international trade to human resources.
Contact:
Michael Sanders
Associate Director of Marketing
617-787-4426 x331
NTI, Inc.,
225 Friend Street
Boston, MA 02114
msanders(at)nticentral(dot)org
http://www.linkedin.com/in/onlinelearning
###