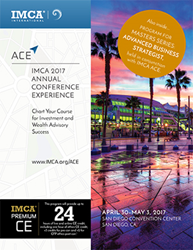 IMCA 2017 Annual Conference Experience features national thought leaders, including the BBC's Global Philosopher Michael Sandel, Father of Behavioral Science Richard Thaler, and the "Margaret Mead" of Digital Culture Sherry Turkle.
Denver, CO (PRWEB) March 27, 2017
More than 1,600 financial service professionals will gather to learn the latest on investment and wealth management from more than 50 of the industry's foremost thought leaders at the Investment Management Consultants Association's® (IMCA®) 2017 Annual Conference Experience(ACE), April 30–May 3, San Diego Convention Center.
General session speakers will feature internationally-known experts, including:

Richard Thaler, the Charles R. Walgreen Distinguished Service Professor of Behavioral Science and Economics at the University of Chicago Booth School of Business, sharing the latest discoveries in human psychology, the power of incentives, and market behavior.
Sherry Turkle, the Abby Rockefeller Mauze Professor of the Social Studies of Science and Technology at the Massachusetts Institute of Technology (MIT), as well as the founder and current director of the MIT Initiative on Technology and Self, a center of research and reflection on the evolving connections between people and artifacts.
Michael Sandel, the Anne T. and Robert M. Bass Professor of Government, Harvard University, on the moral limits of markets in a democratic society.
Jonah Berger, James G. Campbell Associate Professor of Marketing, The Wharton School, University of Pennsylvania, examining how organizations and individuals can sway behavior and prevent consumers from getting mired in "decision-making quicksand."
Rana Foroohar, CNN global economic analyst and Financial Times associate editor, sharing her perspectives on all things global, from what to expect on the world economic horizon to where the Chinese real estate market will grow and more.
Jim O'Shaughnessy, asset management expert, exploring the opportunity in factor investing through building portfolios with pronounced fundamental advantages that have the potential to deliver stronger returns.
General sessions, super sessions, and workshops offer ACE attendees a variety of learning options based on tracks that align with their interests, including: Practice Management Strategies, Certified Investment Management Analyst® (CIMA®)/Investment Strategies, Certified Private Wealth Advisor®/Private Wealth Advice, Business Development Strategies, Institutional Investing and the Art and Science of Wholesaling.
Topics for ACE sessions are 100 percent peer-reviewed and based on IMCA's Investment and Wealth Matrix, a foundation for all IMCA educational offerings focusing on nine key investment and wealth domains: statistical and economic fundamentals, portfolio construction and risk management, traditional and alternative investments, portfolio theory and behavioral finance, application of the investment consulting process, human dynamics, wealth management strategies, legacy planning and advising high-net-worth clients.
ACE registration is now open. Early bird registration ends March 31, 2017.
For detailed conference information, visit IMCA 2017 ACE.
Journalists interested in receiving conference credentials or using IMCA's on-site conference video studio should contact Greta Gloven, ggloven(at)imca.org, (303) 850-3079, or on Twitter @IMCA, conference hashtag #IMCA17.
###
About IMCA
Established in 1985, IMCA is a nonprofit professional association and credentialing organization with individual members and certificants in 37 countries around the world. IMCA members collectively manage more than $2.5 trillion, providing investment consulting and wealth management services to individual and institutional clients. Since 1988, IMCA has offered the Certified Investment Management Analyst® (CIMA®), which meets international accreditation standards (ANSI/ISO 17024) for personnel certification. The CIMA certification consistently distinguishes those who meet a global standard of competency and skills in investment management from those who do not. IMCA's Certified Private Wealth Advisor® (CPWA®) certification is suited for wealth management professionals working with high-net-worth clients. In 2016, IMCA conferences and education hosted nearly 4,500 attendees.
IMCA® and Investment Management Consultants Association® are registered trademarks of Investment Management Consultants Association Inc. CIMA®, Certified Investment Management Analyst®, CIMC®, CPWA®, and Certified Private Wealth Advisor® are registered certification marks of Investment Management Consultants Association Inc. Investment Management Consultants Association Inc. does not discriminate in educational opportunities or any other characteristic protected by law.