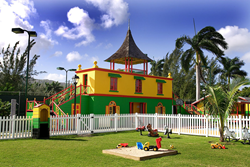 ROSE HALL, JAMAICA (PRWEB) March 29, 2017
Planning a family vacation that pleases every age can be hard. But at Half Moon, the planning – and living – is easy.
For generations, Half Moon has delighted everyone from discriminating 3-year-olds to grandparents seeking to cement lovely family memories. This "country club by the sea" is particularly known for its children's summer camp, which captures all the fun of yesteryear in the comfort of this luxe resort.
Housed in the dedicated Anancy Children's village, and staffed by personnel trained in Penn State University's "Better Kid Care" program, the camp offers active fun from archery to martial arts to reef fishing and horse back riding. Camp Half Moon (July 10 – August 18, 2017) is ideal for guests aged 4 to 12. Pricing starts at $55 per day, per child or $200 per week.
Highly trained nannies are also available at the resort, and provide loving care to kids too young to take part in the summer camp activities. (Very Important Kids are greeted on arrival with a special gift from their new Half Moon friends.)
Meanwhile, adult guests can have some adventures of their own, knowing the children are well cared for. Choose an active day of golf, tennis, Spinning® class or parasailing and fishing. Or do a whole lot of not much, languidly enjoying the resort's many pools, pristine beaches, award-winning Fern Tree Spa or yoga and wellness activities.
Unlike many Jamaican resorts – which restrict guests to 21 and older – Half Moon has long welcomed children. In fact, many families return again and again. The staff – many of whom have been with the resort for decades – enjoy watching their young charges grow and start their own families.
Summer stay rates begin at $330 (advance bookings net a 10% discount); to reserve, visit halfmoon.com or phone 800-626-0592 or 1-876-953-2211.
###
ABOUT HALF MOON
Half Moon is a luxury resort hotel in Jamaica. Located 20 minutes outside of Montego Bay, it sits on 400 acres of expansive landscaped gardens and two miles of beach front. This classically Caribbean resort has been a cherished destination to generations of families, royalty, politicians, and celebrities for more than 60 years. The privately owned resort has rightly earned a reputation as one of the finest resort hotels in Jamaica in large part because of the warmth and gracious hospitality of its staff. Tranquility awaits in one of the 197 spacious rooms and suites and 31 expansive oceanfront villas with private pools. The resort boasts numerous amenities including an 18-hole championship golf course, Fern Tree Spa, tennis courts, riding stables, fitness centre, Anancy Children's Village and five-star dining options such as Jamaica's highest rated restaurant, Sugar Mill. Half Moon is perfect for honeymoons, family vacations, couples retreats and wellness getaways. For more information visit http://www.halfmoon.com/ or call 876-953-2211.