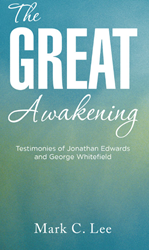 New York, NY (PRWEB) April 03, 2017
The "Great Awakening Movement" is one of the most iconic chapters in Christian history. This historic movement is chronicled in "The Great Awakening," a new book published by New York-based author Mark C. Lee.
'Awakening' follows Rev. Jonathan Edwards as he initiates the preaching of revolutionary sermons in Northampton, Massachusetts. During this time, George Whitefield, an English American cleric, began preaching as well. As a result of a string of moving sermons, the "Great Awakening Movement" began.
Passionate about his country, Lee hopes 'Awakening' will help people remember what this country is all about. "I want to see our nation come back together to its founding purpose," said Lee. "Everyone needs to witness God's salvation and I'm hoping this book will do just that."
An in-depth explanation of one of the most impactful time periods in Christian history, "The Great Awakening" will move those with knowledge of Christian history, and intrigue those who may have been otherwise unaware.
"The Great Awakening"
By Mark C. Lee
ISBN: 978-1-51276-526-7 (softcover); 978-1-51276-528-1 (hardcover); 978-1-51276-527-4 (electronic)
Available at WestBow Press, Amazon and Barnes & Noble
About the author
Mark C. Lee is a retired English teacher, who taught the New Testament at Canna Christina College in New York City. He has served as a Youth Pastor at the Truth Church of New York in Queens, New York, a missionary affiliate of Lutheran Church of Tapei in Taiwan since 2013.
###
Review Copies & Interview Requests:
LAVIDGE – Phoenix
Chris Peña
480-998-2600 x 519
cpena(at)lavidge(dot)com
General Inquiries:
LAVIDGE – Phoenix
Bryan Beach
480-998-2600 x 510
bbeach(at)lavidge(dot)com