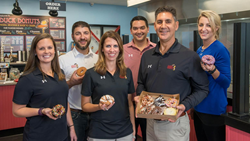 I grew up in the Rosemont area, and it's personally rewarding for me to not only deepen Duck Donuts' roots in Pennsylvania, but to bring our award-winning warm, made-to-order donuts to my hometown community.
Mechanicsburg, Pennsylvania (PRWEB) April 07, 2017
Duck Donuts Franchising Company LLC expands to King of Prussia and becomes the Keystone State's fifth Duck Donuts, according to founder and owner Russ DiGilio. Joining donut shops in Lancaster, Mechanicsburg, Hershey, and Pittsburgh, the King of Prussia shop will be located at 201 Main Street, Suite 160, in the new King of Prussia Town Center, a lifestyle center located a short distance from the King of Prussia Mall.
Projected to open in July 2017, franchise owners and brothers Rick and Todd Rindfuss are proud to bring their 1,500-square foot, coastal-inspired store to the shopping district of King of Prussia Mall, the largest retail mall in the United States.
"Our first-ever trip to Duck Donuts was to the Kill Devil Hills location in North Carolina. There was a line flowing out the front door and into the parking lot. If we hadn't promised all of the kids donuts that morning, we probably would have just turned around due to how busy it was. Fortunately, we decided to park and stand in line. That was the best decision we made all week. The line moved fast, and the taste was worth the wait," says Todd Rindfuss. "We are very excited to be part of the family of new restaurants at the King of Prussia Town Center, and we look forward to bringing a taste of the Outer Banks back home to southeast Pennsylvania."
Considered to be an edge city of Philadelphia, King of Prussia is best known for its retail shopping. Millions come every year to shop the luxury brands, and 60,000 people arrive to work in the region each day. The King of Prussia Town Center is fast becoming a Millennial meeting and dining first choice.
In 2016, Expedia ranked King of Prussia as the seventh most comfortable city in America. Home to Valley Forge National Historical Park and world-class shopping, this region attracts nearly 30 million visitors per year.
"King of Prussia is located only 1.5 hours from our corporate headquarters in Mechanicsburg and is home to many of our donut fans that vacation in the shore points near our Avalon store," says DiGilio. "I grew up in the Rosemont area, and it's personally rewarding for me to not only deepen Duck Donuts' roots in Pennsylvania, but to bring our award-winning warm, made-to-order donuts to my hometown community."
"We are always thrilled when new merchants come to town. It's exciting for us as it only adds to the fantastic businesses already present and helps expand the already booming economy. Welcome Duck Donuts!" says Kathleen Brandon, President/CEO, Montgomery County Chamber of Commerce. 
The new Duck Donuts in Montgomery County will bring 25-40 new jobs to the local economy. Reflecting the franchise's iconic beach theme, the Rindfuss' plan is to have limited indoor seating with plenty of outdoor seating available in the courtyard. As of March 29, 2017, Duck Donuts Franchising Company has 36 open stores and 153 contracts.
Donuts at this location will be made fresh to order 7 days a week from 6:00 a.m. - 7:00 p.m. For Grand Opening specials and donut topping updates, visit the Duck Donuts King of Prussia Facebook page or connect on the web at DuckDonuts.com.
About Duck Donuts
Duck Donuts was founded in 2006 by Russ DiGilio in Duck, North Carolina. His intention? To solve a family vacation problem: "Our family wanted a place to buy warm, delicious & made to order!™ donuts, and when we couldn't find one, we decided to start our own."
By 2011, Duck Donuts had expanded to four Outer Banks locations and the donut business was so successful that DiGilio was continuously approached about franchise opportunities and by fans who begged for a Duck Donuts in their communities. The first franchise opened in Williamsburg, VA, in 2013, and there are now 36 open franchise locations and 153 contracts.
Duck Donuts store openings are scheduled for:
Alexandria, VA – Opens March 30
Jacksonville, NC – April
Nags Head, NC – May
Alpharetta, GA – May
Wilmington, NC – May
Kissimmee, FL – May
Hershey, PA – May
White Marsh, MD – May
Duck Donuts emphasizes the importance of giving back to the local community through their #QuackGivesBack initiatives every month and their national corporate partnership with Chemo Duck. "Our mission is twofold," says DiGilio, "to serve the most amazing warm, delicious, and made-to-order donuts, and to contribute to the communities we call home."
The Duck Donuts Experience
"We discovered that the most powerful marketing advantage we have is the aroma of warm donuts wafting from every store. Our light vanilla cake donut is a little crispy on the outside and fluffy on the inside, made fresh right in front of you, hand-dipped in hot icing, and sprinkled with your choice of delicious toppings and drizzles. It's that simple," says DiGilio.
Children (and grownups) love to stand on the strategically placed step in the waiting area, allowing them to see the entire process as the donut machine cooks and carries their donuts down the line, where they are dipped, topped, packaged, and served warm in the box. Duck Donuts serves its own signature coffee blends—Riptide Roast, Light House Blend, and Sunset Pier Decaf with new special seasonal flavors changing throughout the year—and offers breakfast options, as well as catering services. Indoor and outdoor seating is available at most locations.
To learn more or to share your Duck Donuts experience, Like us on Facebook, follow us on Instagram, or send us a Tweet.
###