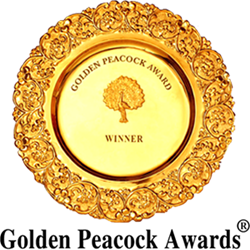 CINCINNATI, Ohio (PRWEB) March 29, 2017
The Golden Peacock Innovative Product/Service Awards recognizes global companies that exhibit exceptional innovation in business. It is, "designed to encourage systemic innovation in organization to make products and services required in the new century. This award would not only spark creativity and innovation throughout enterprises, but also is the surest route to market leadership by helping (businesses) thrive from the change and uncertainty that have become the hallmark of the new age."
Gensuite's submission featured their holistic solution for Environmental, Health & Safety and Sustainability, Quality, Security, Responsible Sourcing and Product Stewardship. The entry focused on key differentiators, such as multilingual and best-in-class Mobile capabilities, as well as innovative projects that the company is pursuing in 2017. Gensuite was declared a winner under the Chairmanship of Justice (Dr.) Arijit Pasayat, former Judge, Supreme Court of India.
Gensuite will be presented the award at the Golden Peacock Awards Ceremony on Tuesday, April 18, 2017, in Dubai. To learn more about the Golden Peacock Innovative Product/Service Award, visit http://goldenpeacockaward.com/awards/innovative-product-service-award.html.
Gensuite® cloud-based IT solutions enable you to achieve your vision for robust and effective business compliance processes and management systems. The result of two decades of systematic innovation and evolution, Gensuite today offers proven product suites for Environment, Health & Safety (EH&S) and Sustainability; Quality; Security; Responsible Sourcing, and Product Stewardship. Our 65+ integrated, award-winning Web applications provide comprehensive program support, delivering enterprise operational excellence and risk management. All Gensuite applications share an innovative and patented architecture, with integrated and intuitive interfaces, real-time trending & analytics, and best-in-class Mobile capabilities. Gensuite subscribers are assured of an absolute commitment to and a track record of product & service excellence, with services spanning hosting, maintenance, support, customization, implementation & strategy consulting and continuous product evolution; and an unmatched collaboration and innovation community spanning 130+ global subscriber companies!