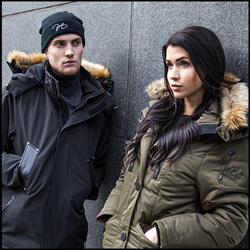 Toronto, ON (PRWEB) March 29, 2017
North Aware, creator of the Smart Parka, the world's first winter coat with built-in gloves, air pods, scarf, tech pockets and more, is offering the Smart Parka 1.0, a new and enhanced version of its inaugural design at almost fifty percent off through a special pre-order sale available now at preorder.northaware.com.
What's great about the Smart Parka 1.0? Don't worry about losing your air pods on the cold and windy commute. Smart Parka 1.0 has that and more covered. With its wireless air pod holders, sheep leather gloves, super warm duck down filling- good for wind chills to minus 40 degrees- built-in scarf, hat, waterproof liner, and plenty of compartments to keep everything warm and dry, you might actually start to like winter! The new coat comes in four styles for women- bomber, expedition, classic and vogue; and three styles for men- bomber, classic and expedition. A variety of colours are available. Pre-order at prices starting at $349, almost half off!
"Smart Parka customers are just that—smart— and they want the technology they've come to depend on with the warmth and convenience North Aware provides," stated Jamil Khan, creator and founder of North Aware. "Unlike some winter wear products, our products are designed specifically for our consumer and their needs. And, we will keep evolving our designs as their needs change."
The Smart Parka 1.0 is offered at a savings to customers who pre-order by September 2017. Customers can pay for their Smart Parka 1.0 in three easy installments of about $116 per month; customers who pre-order will receive their coats in October 2017 just before the cold winter weather sets in. And, as an added bonus, North Aware is offering a 100% refund, hassle-free returns and exchanges even before you get your coat!
"We are confident that our Smart Parka customers are going to love the new features of the Smart Parka 1.0," said Khan. "By offering a special pre-order sale, we are able to give the consumer the features, warmth and quality they have come to know with North Aware winter gear at a price that can't be beat."
About North Aware
North Aware is a global brand based in Toronto specializing in cold-weather gear designed with lifestyle in mind. Founded by Jamil Khan, a software engineer, North Aware brings to market the world's first complete winter coat. Through innovative design and aesthetic appeal, the Smart Parka explores the new possibilities in winter wear and challenges what has already been done.
Twitter: @northaware
Instagram: @north_aware
Facebook: North Aware Inc.
Website: http://northaware.com