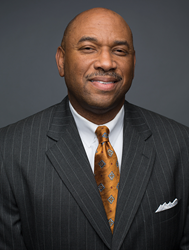 Quentin will be a very positive addition to the organization.
Sherman Oaks, CA (PRWEB) March 29, 2017
After an extensive search, the Valley Economic Development Center's ("VEDC") Board of Directors today announced Quentin D. Strode as its new president and chief executive officer. Strode began his new role on March 27th and will guide the VEDC towards its mission as a premier non-profit Community Development Financial Institution ("CDFI") small business lender.
Previously, Strode was a managing director of Artifex Capital & Advisory and provided consulting services to clients originating Small Business Administration loan transactions and other small business services. He spent years developing banking strategies in local Latino, African-American and Asian communities in and around Los Angeles, Chicago and the Pacific Northwest. With a strong background in banking and management, including a decade as a vice president and senior vice president of regional and consumer markets at Bank of America, Strode will apply his extensive experience in business banking and community economic development to further develop small business owner success across the country.
Nishen Radia, chairman of the board of the VEDC had this to say about Strode: "Quentin's immense banking and lending experience makes him the right person to continue the work the VEDC has accomplished in the past. He will provide strength and credibility to the VEDC's already impressive 40-year history of small business support." Pegi Matsuda, immediate past chairman of the board of directors, served as chairman of the selection committee. Matsuda said, "The members of the search committee spent long hours researching and interviewing numerous candidates and we are confident that Quentin will be a very positive addition to the organization."
About VEDC
Founded in 1976, the VEDC (Valley Economic Development Center) is a leading non-profit small business lender with a 40-year history of changing small business lending. As a certified Community Development Financial institution (CDFI), its mission is to help create jobs and promote small business development in under-served communities. The organization provides loans and micro-financing options to small businesses, particularly those owned by women and minorities, that don't qualify for traditional financing. VEDC's expanding portfolio is composed of community-based loan funds in California, Nevada, Utah, Illinois, Florida, Connecticut, New Jersey and New York.