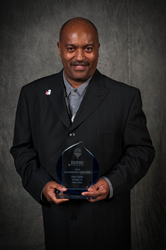 CHICAGO (PRWEB) March 30, 2017
Dale Taylor of RE/MAX 10, New Lenox, Ill., was recently honored by RE/MAX Northern Illinois as its 2016 Humanitarian of the Year for his work in aiding the homeless. The award was presented at the 40th Annual RE/MAX Awards Ceremony at Navy Pier.
Taylor, a RE/MAX agent since 1995 and resident of Frankfort, Ill., was praised for his efforts over the last 11 years with South Suburban PADS, an organization providing emergency shelter and a range of related services to aid the homeless. It's a logical extension of his role as a RE/MAX broker helping families find homes.
A member of the PADS board since 2006 and a former vice president of the organization, Taylor continues to volunteer as a shelter site manager at least one night a week,
"I first became involved in the aftermath of Hurricane Katrina when several friends who were on the PADS board asked me to help prepare a facility in Tinley Park owned by the state to receive people from New Orleans who were being temporarily relocated to the Chicago area," Taylor recalled. "I continued working on that project once the people arrived, and later joined the board of South Suburban PADS, eventually becoming one of their volunteer site managers."
He has continued in that role ever since, and now manages a shelter site for men one night a week, usually staying on the job from 6 p.m. to 7 a.m. There are about 20 PADS sites in the south suburbs, he reported, most provided by churches and each typically used just one night a week. Guests at these shelters receive not just a place to sleep but also dinner, breakfast and, when they leave, a bag lunch.
"Our goal is to provide immediate shelter for our guests but also to work with them to find a long-term solution to their housing needs and help them cope with other issues that may have led to their homelessness, whether that is a medical problem or the lack of employment or some other factor," Taylor explained. "We have skilled case workers who can help our guests in many ways."
From his perspective, Taylor said he has remained committed to this volunteer work because of its impact.
"I really believe life is about sowing and reaping, and it's so important to sow good seeds," he explained. "It is extremely rewarding to see people overcome their problems and regain stability in their lives."
RE/MAX agents consistently rank among the most productive in the industry. In 2016, RE/MAX Northern Illinois agents averaged 18 transaction sides. RE/MAX has been the leader in the northern Illinois real estate market since 1989 and is continually growing. The RE/MAX Northern Illinois network, with headquarters in Elgin, Ill., consists of more than 2,250 sales associates and 103 independently owned and operated RE/MAX offices that provide a full range of residential and commercial brokerage services. Its mobile real estate app, available for download at http://www.illinoisproperty.com, provides comprehensive information about residential and commercial property for sale in the region. The northern Illinois network is part of RE/MAX, a global real estate organization with 110,000+ sales associates in 100+ nations.
####
EDITOR'S NOTE: RE/MAX® is a registered trademark. Please spell in all caps. Thank you. This release is posted at blog.illinoisproperty.com.