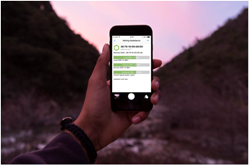 We believe Linq Assist™ is a great addition to the MetroLinq™ product line and will foster incredibly dependable link alignments in the field.
Irvine, CA (PRWEB) March 31, 2017
IgniteNet™ is excited to announce the launch of its one-of-a-kind aiming application, Linq Assist™, allowing more reliable PTP/PTMP wireless connections for MetroLinq™ 60Ghz products. Alignment accuracy is essential in acquiring successful wireless links and any misalignment may cause critical performance issues or even loss of connectivity. Linq Assist provides faster initialization, more precise results, improved responsiveness, and a more intuitive operational process than previous implementations. With the aiming assistance utility, the alignment experience is simplified and installation is significantly improved.
It is no longer necessary to login to both ends of the MetroLinq or connect cumbersome equipment to the radios when using Linq Assist. The new aiming utility requires only a supported blue tooth dongle connected to an available port on one radio on a single side of the connection. Linq Assist is designed to lower network installation costs, since it is no longer necessary to keep a "man on the ground" relaying alignment data. The aiming app streams alignment data directly to your iOS or Android phone or tablet in real-time, saving you both time and labor expense.
"We believe Linq Assist is a great addition to the MetroLinq product line and will foster incredibly dependable link alignments in the field," reports Chad Dewey, VP of Product Design at IgniteNet. "We always knew we needed a better tool to achieve high-capacity links and we are thrilled to offer the new app free of charge."
Never before has link alignment been this trouble-free and informative for MetroLinq PTP/PTMP connections. And with IgniteNet's newly enhanced Web UI, aiming is now more simple, accurate and responsive than ever before. Both the aiming app and enriched Web UI are a true win-win for service providers and installers alike. Linq Assist can be downloaded for both iOS and Android mobile devices in the app store.
Headquartered in Irvine, CA, IgniteNet is a wholly owned subsidiary of SMC Networks, Inc. IgniteNet has a proven track record of producing powerful, reliable, and easy to deploy, innovative cloud managed wireless solutions and the industry's lowest cost 60 GHz wireless technology through channel partners worldwide focused on Enterprises and service providers. For more information about the the entire MetroLinq product line, visit the IgniteNet website.